St. Lucia December 2018 - Greasy Sandy Artsy

Earlier this month my family and I took a two week long trip to St. Lucia. My wife had been there many years ago as a bridesmaid. She had stayed at Bay Gardens Beach Resort during that stay and had a great experience, so she decided to book our stay there for this trip. Our stay this trip at Bay Gardens Beach resort was wonderful. It is located in Rodney Bay, with a wonderful sandy beach, beautiful seawater, numerous water activities and close to a variety of restaurants and night clubs. I was impressed by the scenic garden in the facilities created with the local Caribbean flora. Every where we looked we saw beautiful coconut palms, traveler palms, almond trees and colorful flowering plants. We loved the beauty and recommend staying at Bay Gardens Beach Resort.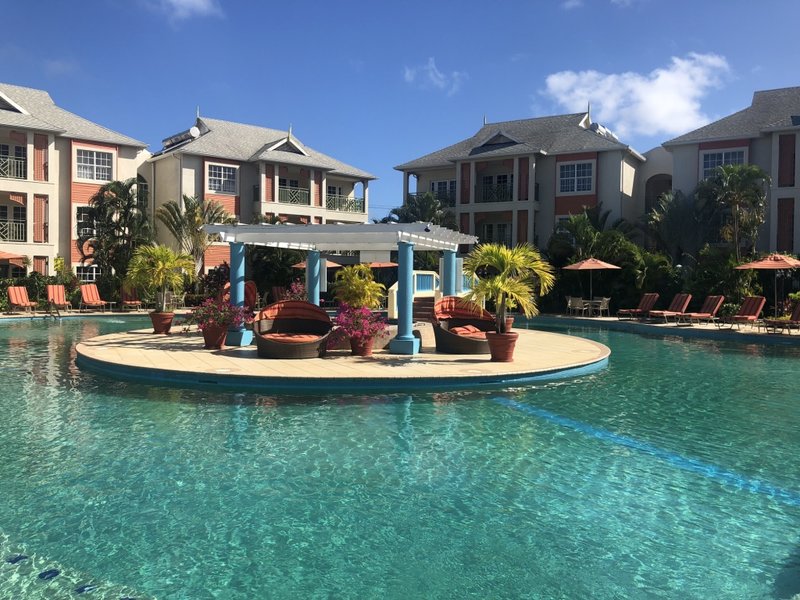 After a few days of relaxing on the beach, playing in the sand, swimming in the pool and walking around in Rodney Bay, we took a few boat rides. The first boat ride was a sunset cruise to the south and the Pitons mountain peaks, the second boat ride was a trip to the sulfur baths and a waterfall and the third boat ride was to the neighboring French island of Martinique. On our second boat ride while the ship was following the coastline, a passenger yelled "There is something in the water". It was a broad non-specific statement , but most of the passengers curious about what was in the water, went to the side of the boat and looked out on the ocean.
At first we only saw one or two dolphins swimming out in the ocean beneath the water, but when then they began to jump out of the seawater all the passengers started to yell out in excitement. Within a few minutes of this initial excitement,  our boat was surrounded by a school of ten to fifteen dolphins playfully jumping out of the water and following our boat. On our first boat ride we sailed to the two famous Pitons mountain peaks and my wife had a chance to snorkel between the Pitons. She reported that the sea floor was a splash of color, sparkle and beautiful sea creatures. We then went to a wonderful black sand beach and then sailed back singing and dancing to gritty soca music with the friendly captain and crew. On our trip to Martinique we had an informative tour of the rich history of the island of Martinique.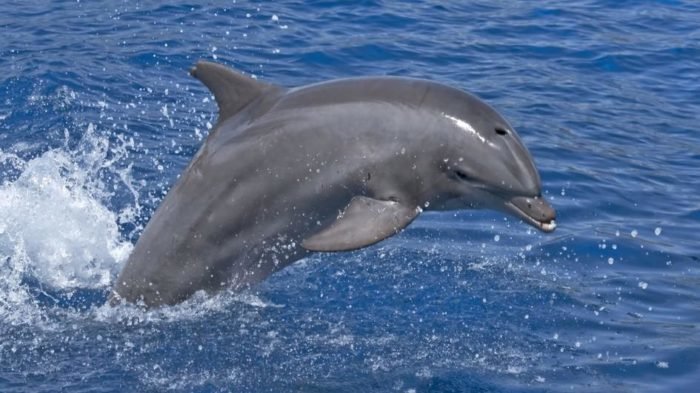 The second week of our trip we were lucky to enjoy the festivities of the St. Lucia national holiday. Bay Gardens Beach resort hosted a day of celebration with traditional games and music on the beach. Beach games included relay races involving carrying eggs in small spoons, hopping down the beach inside bags and kayaking in the bay. There was a donut eating competition for the children and then one for the adults. There was a beer drinking competition for adults and many other mini games for small prizes. However every one on the beach was waiting for the main event, the Greasy Pole Challenge. Set up the night before, the approximately 25 foot pole, slathered in lard had been ominously towering all day in the sand waiting for brave challengers. Finally the master of ceremony announced the start of the Greasy Pole Challenge and two teams accepted the challenge, a group of adventurous tourists and a group of determined to win locals.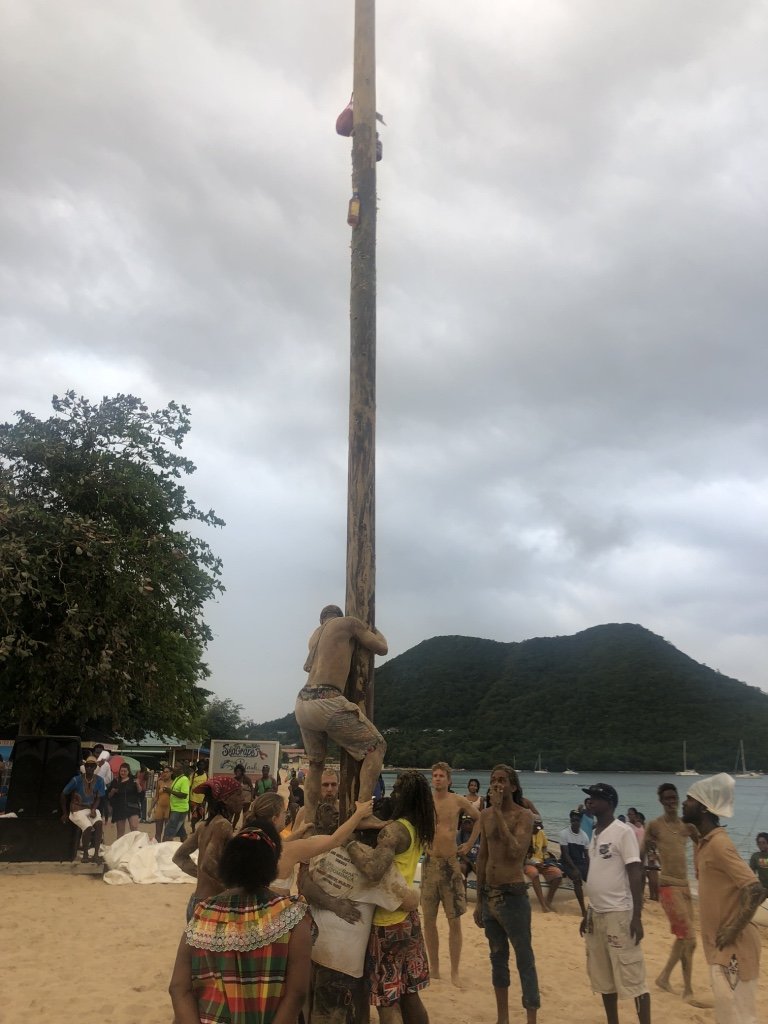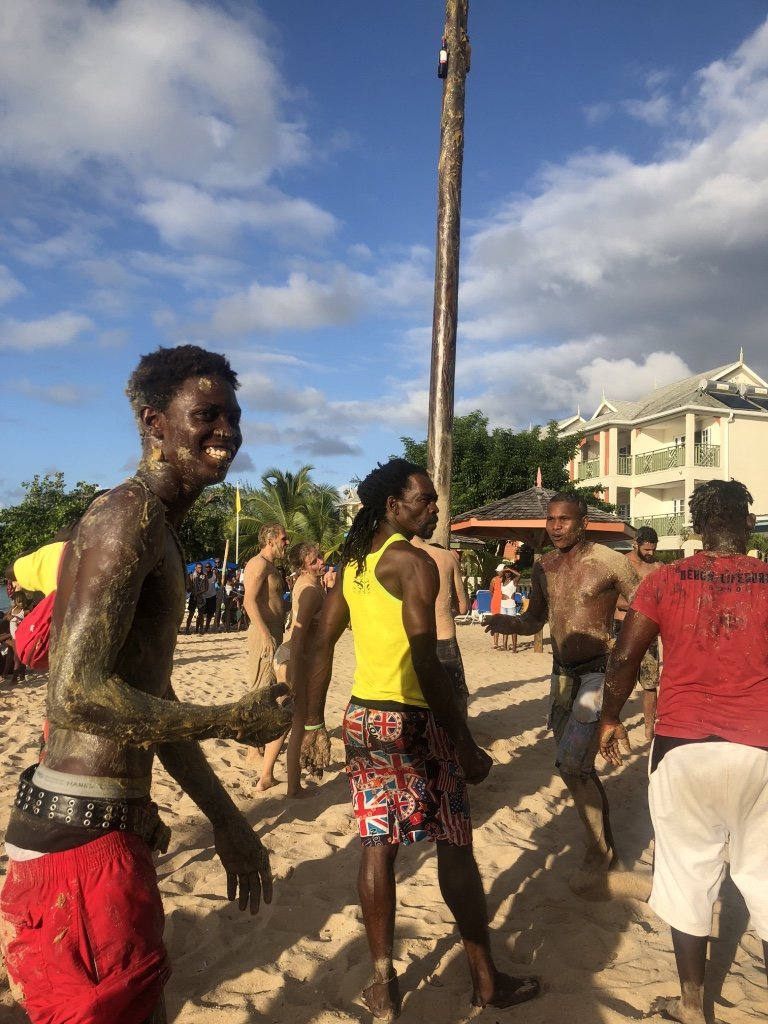 I had never seen a Greasy Pole challenge before so I did not know what to expect. My first surprise was that up to 20 players per team were allowed, it seemed climbing solo had proved impossible in the past. I then watched both teams take turns trying to build stacks of human players in an attempt to collect the prizes hanging from the top of the pole. The prizes were  2 bottles of rhum and a cured ham shoulder. As the pole was approximately 25 foot tall, the teams tried to build pyramid like formations of players standing on each others shoulders and heads while doing their best to hang on to the greasy pole and not slide down. To help players not slide, they covered themselves in beach sand.
Most of the time the teams failed, starting with the players on the top sliding on the greasy pole and causing an avalanche of players. This slow slide to defeat was accompanied by the roar of the spectators hollering and laughing at the ordeal. There was even a few older St. Lucian men who offered to join the competition, but they jokingly pointed at a nearby ladder and they were told that this was not allowed in the game. Eventually the brave competitors, after multiple painful attempts and cooperating by combining the tourist and local team, were able to grab a hold of the two bottles of rhum and free them from the pole. Everyone had tremendous fun participating or watching the main event.
My family and I also made sure we viewed, enjoyed and purchased art from St. Lucia. We arranged to to visit a few local art spots in the area. Our first stop was at Eudovich's art gallery. Vincent Joseph Eudovich became renown in St. Lucia for his wooden sculptures. He also trained many young apprentices and taught them how to create wooden art pieces. Many tourists visit his gallery, so when we arrived we were greeted by a guide, who toured us around the facility and told us about the main type of wood used, Laurier Canelle, and about the artwork available at the gallery. Other woods used in the sculptures are Mahoganey, Teak, Cedar and Laurier Mabouey. Joseph Eudovich maintains some of his art in it's natural form and natural state. Vincent Joseph Eudovich saw the beauty in the natural form of the tree root and smoothing and polishing the outside he creates beautiful abstract lattice-like art forms. He also is an expert at transforming the wood into beautiful human figures, animal figures, still objects and wall masks.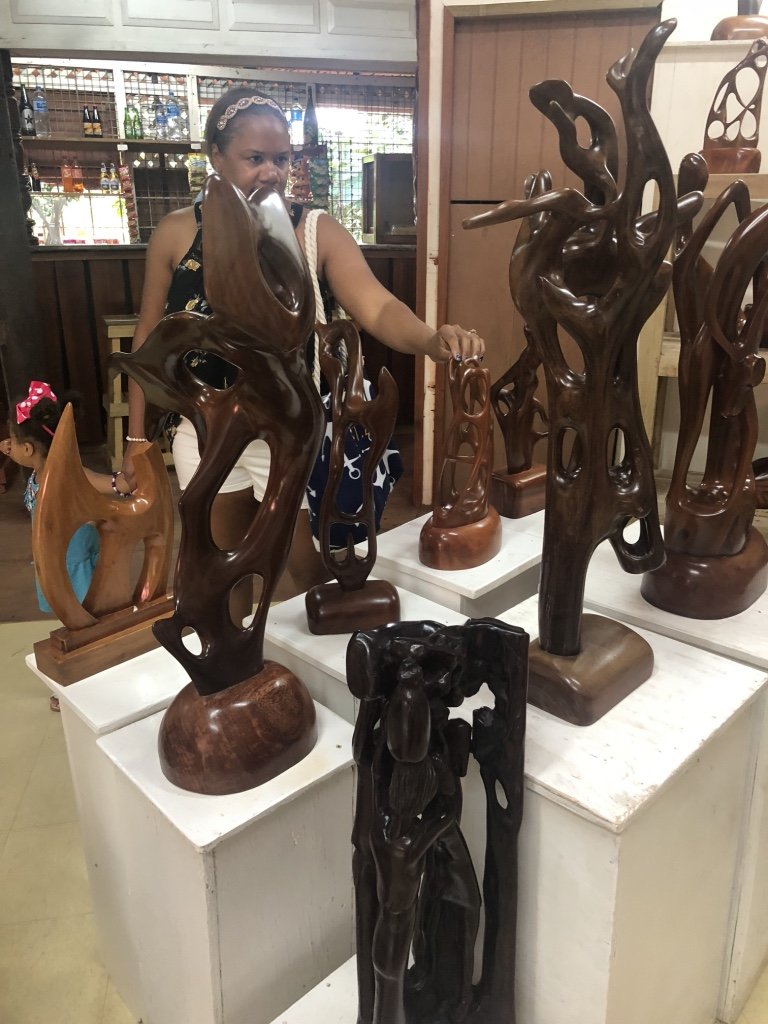 Our second art stop was at the cruise ship port. There was no art gallery inside, but we did meet a local vendor outside who had original paintings for sale. We learned that the main artist is the vendor's Rastafarian husand who signed his paintings Raskassa, but that the whole family painted including the wife and their daughter. I enjoyed the art created by the family, most were focused on St. Lucia life and the countryside but a few were abstract. The painting style incorporated monochrome objects and each paint stroke was full of color creating a paste-like impasto style. The abstract paintings had different unspecified shapes in a similar painting style. We ended up buying 2 paintings, one was painted by the vendor wife and the second one was painted by their daughter. Both are seen in the below picture we took that day.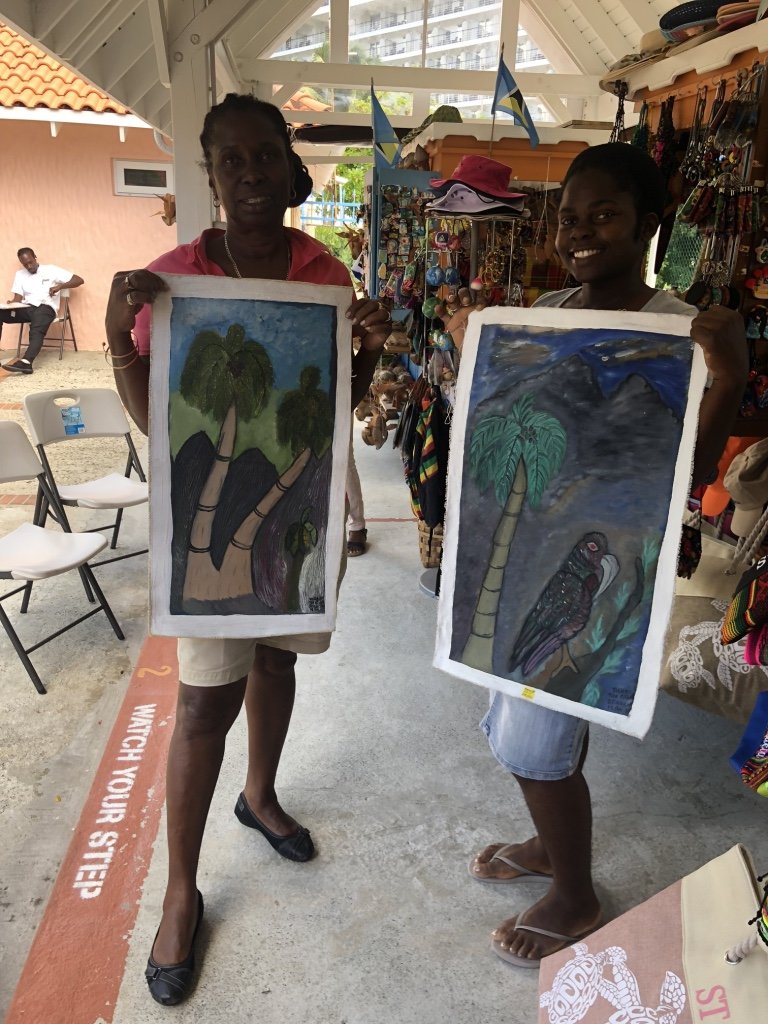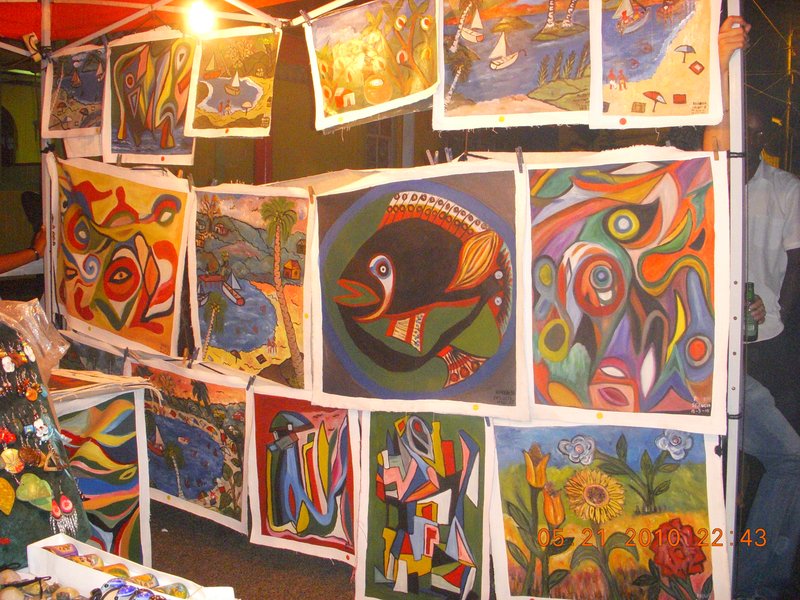 Our third stop was at the Inner Art Gallery where we saw a solo exhibition by Jonathan Gladding. On display were wonderful realism paintings depicting young women, children and the natural beauty of St. Lucia. There was a stunning large painting of the Pitons that would fill a wall, with amazing painted detail of the vegetation growing  on these mountain peaks. There were multiple paintings of beautiful young women in traditional St. Lucian clothes and colors. There were also many beautiful paintings of the city life in St. Lucia. I had a wonderful time spending a few minutes viewing and enjoying each painting with my family. St. Lucia is a wonderful and beautiful place to visit because of the people, the sand, the beach, the food, the grease and the local art scene.  Both St. Lucian gallery and street art were wonderful to appreciate.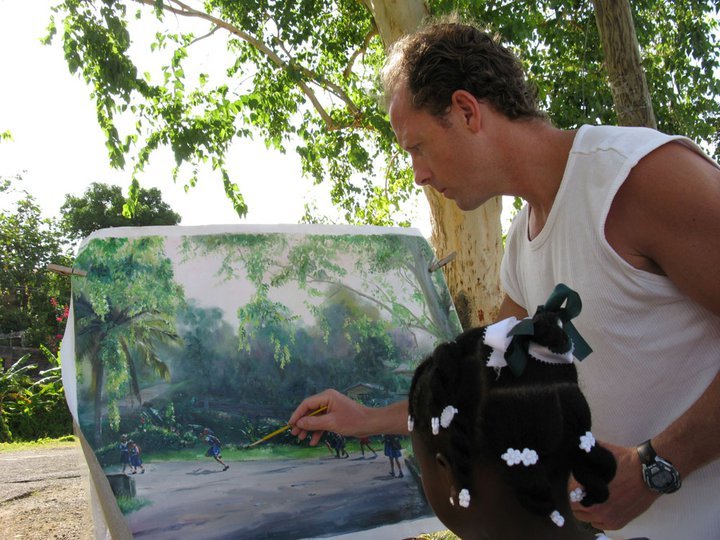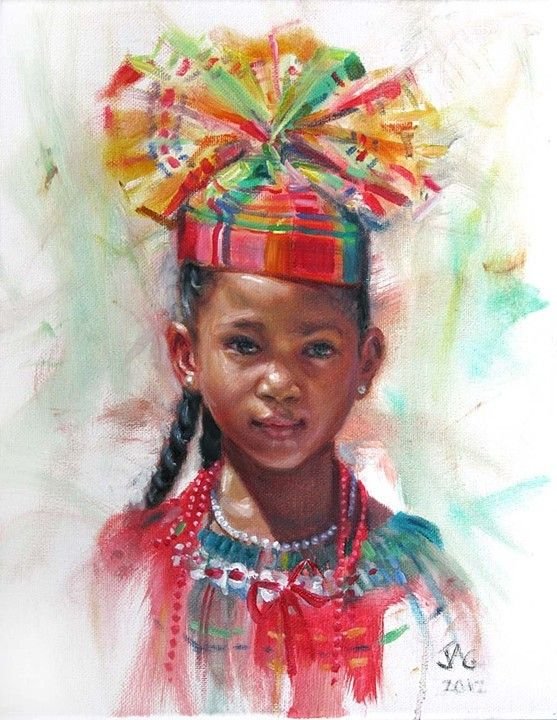 Written December 2018:   Philippe Leveille
---

---

---
Belize Easter 2017: Art Relaxation At Every Turn
Over Easter weekend Haitian street art set sail for an island off the coast of Belize in Central America. If you've never heard of the tiny Central American country, just about the size of the state of Massachusetts, you are not alone. There are not as many advertisements or commercials for tourism, such as the ones for Jamaica or the Bahamas. One must visit Belize to learn its national slogan "You Better Belize It". On the biggest island off the coast of Belize, Ambergris Caye, there is the town of San Pedro. The locals named it "La Isla Bonita" which translates to "The Beautiful Island". Madonna refers to this wonderful island on her hit single "La Isla Bonita" on her third studio album True Blue 1986.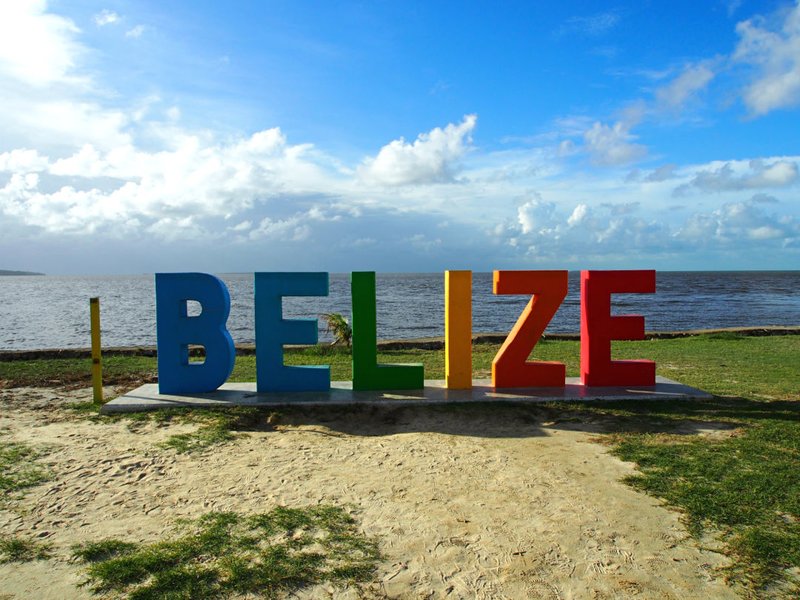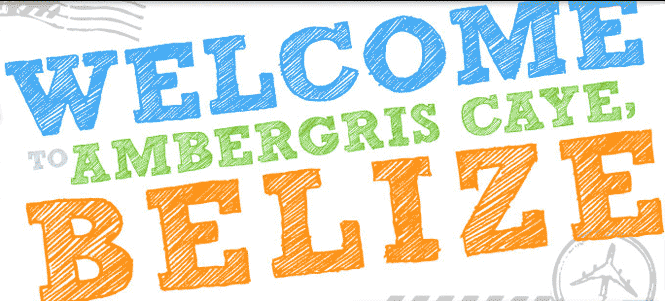 Upon arriving at the Belize International Airport we took a very small plane from Maya Island Air to Ambergris Caye, which is a 15 minute flight. The plane sat about 10 people plus the pilot with, with no co-pilot mind you. The pilot himself properly gave us the safety speech and a passenger was actually riding shot gun with the pilot! Arriving safely in the airport at San Pedro, the accommodating staff of Maya Island Air flagged down a taxi for us and the taxi dropped us off at our beach hotel. The main mode of transportation in San Pedro is by golf cart. In San Pedro there are no traffic lights or street signs because the locals say it is impossible to get lost. We stayed at a wonderful beachfront boutique hotel named Corona del Mar and we were very impressed with their hospitality and beautiful accommodations. Corona del Mar has over 50 guest rooms and there is local Belize artwork in each of the guest rooms and in the hotel lobby.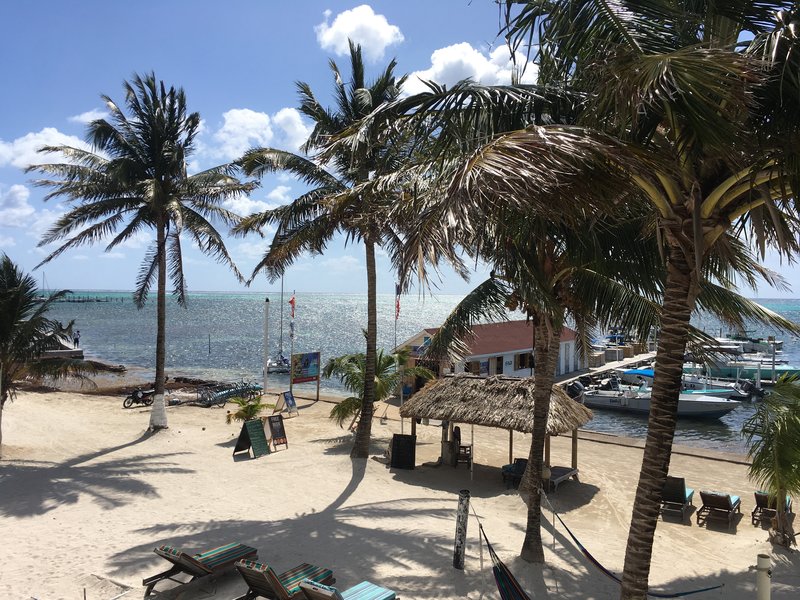 We enjoyed exploring the island of Ambergris Caye on foot as well as going on boating expeditions. The island is filled with many mom and pop stores, there are no large commercial store chains in the country of Belize. One day we walked into the Belizean Arts Gallery, it had amazing Mayan art on display. All over the store original art from Mayan Indians was on display, and even a few Haitian steel drum art pieces. Looking through the artwork, one painting caught our eye and we were intrigued by the color, beauty and mystery of this painting. The gallery employee told us a little more about it, he said that it was painted by a Mayan artist named Pui Gonzales. We thought it would add beautifully to our collection. It is the first painting below of the Mayan girl, and we also added some other artwork we enjoyed in San Pedro.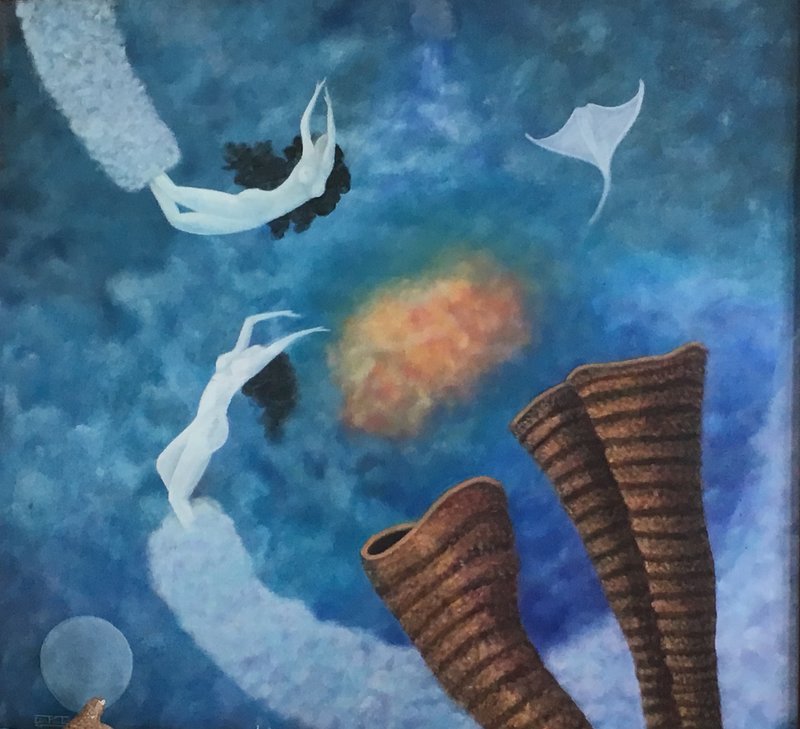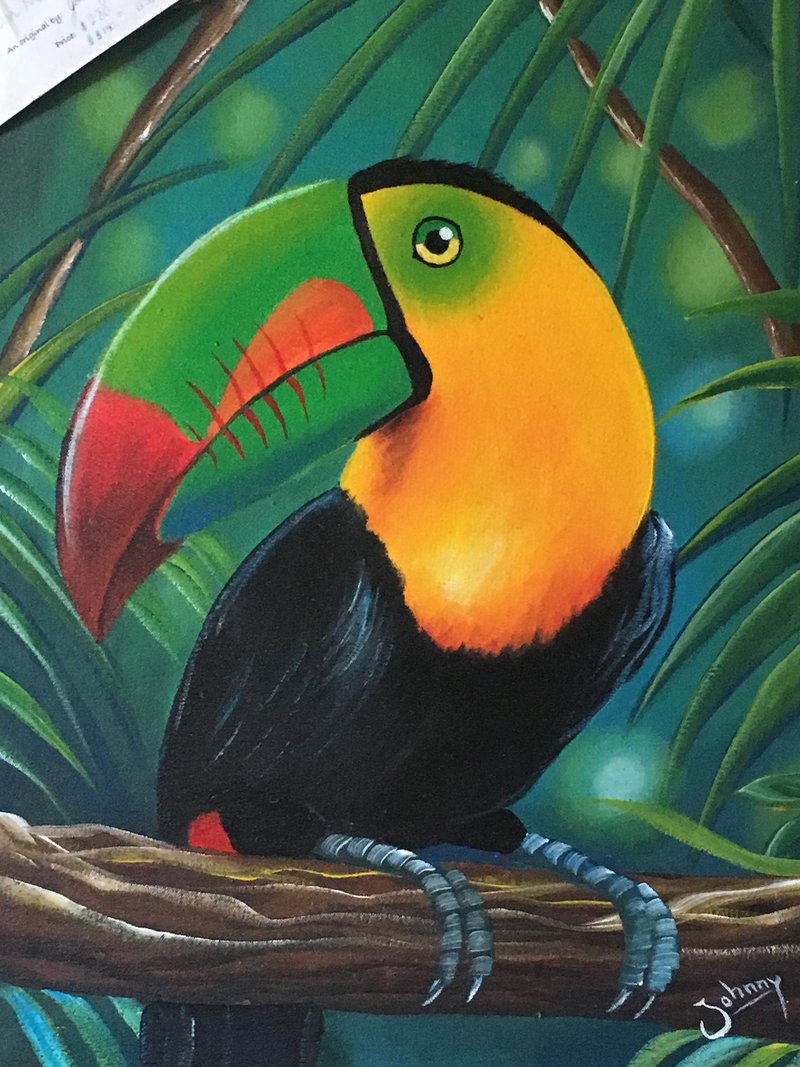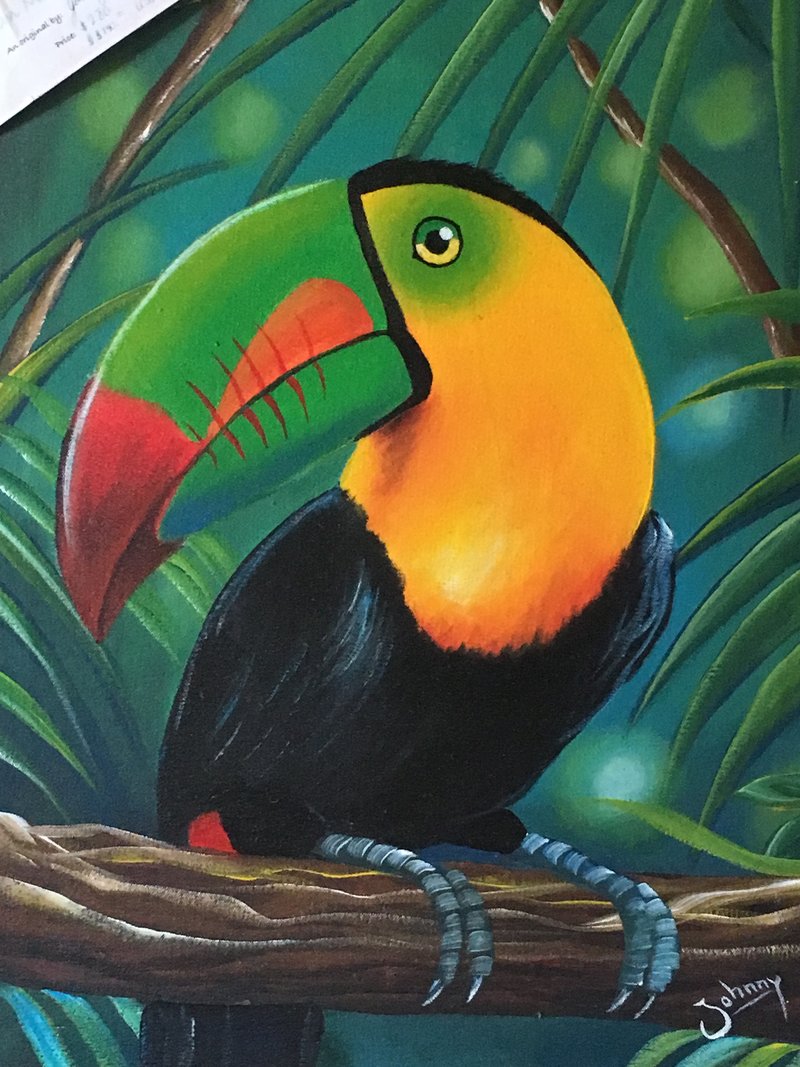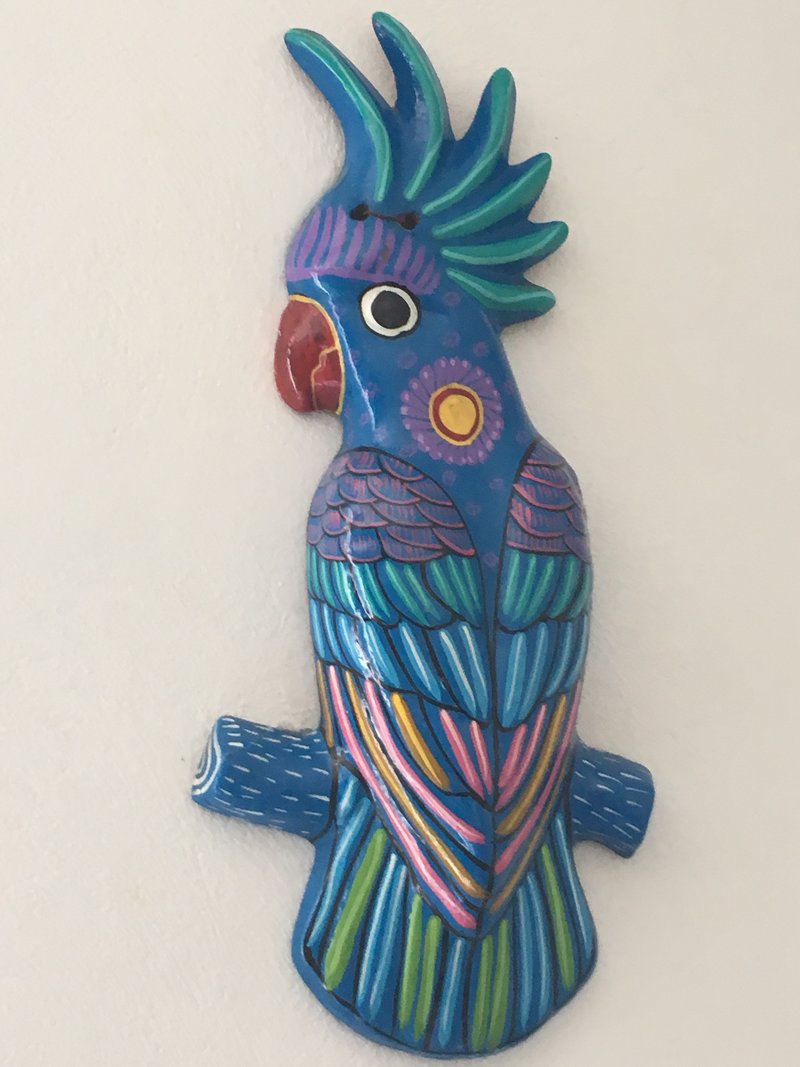 The streets of San Pedro are narrow with no stop signs or traffic lights, so one must be careful while sight-seeing. We were delighted to bump into a display of beautiful carved wood on a quiet side-street while we were walking back to our hotel. We had a conversation with the artist, Clarence Clifford Turner, who told us that he created each artwork himself and had been carving wood for over 26 years. To overcome the problem of art breaking during travel in the suitcases of tourists who purchased from him, he had changed the way he created his wooden sculptures. Clarence now designs his wooden artwork in multiple pieces that could easily be put together or taken apart via wooden peg extensions. It makes it easier, more convenient and safer for his customers to travel with his artwork safely to their home destination. As we enjoyed the masterpieces he had displayed on his table on the street, we negotiated to buy two awesome pieces, a ferocious large green dragon and a small set of dominoes.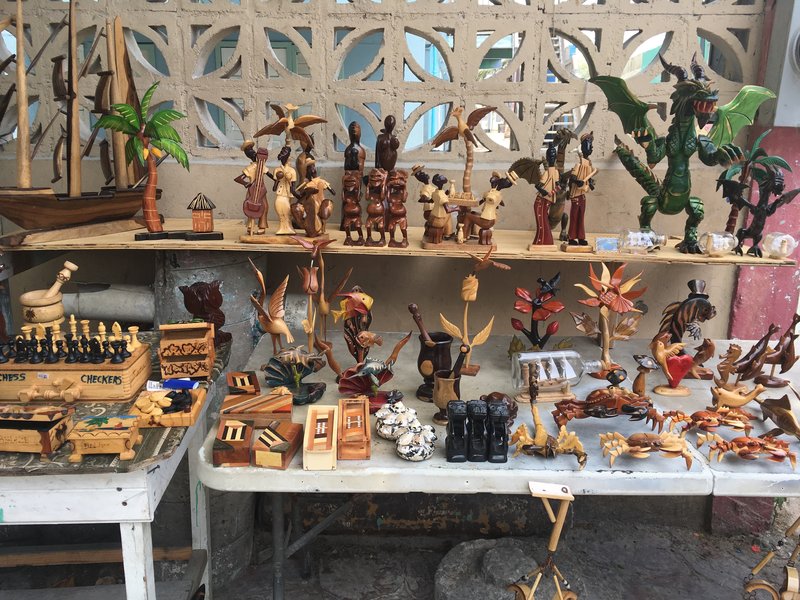 Table of wooden sculptures above and Clarence Clifford Turner holding dragon sculpture bottom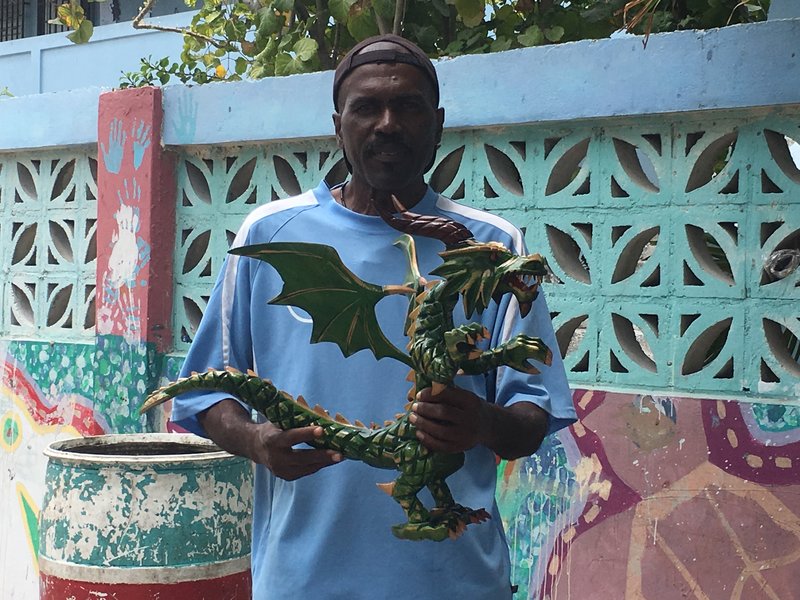 Toward the end of Haitian street art's visit to San Pedro, Belize we met June Flowers from Corozol. She was selling the most beautiful Ziricote platters and bowls. Ziricote(Cordia Dodecandra) is only found in Central America, including in the rain forests of Belize, and its dramatic color ranges from dark brown to light tan. June called it iron wood because of its natural hardness. June told us that she travels by ferry from the mainland to Ambergris Caye everyday to sell wood carvings to tourists. She says that her husband respects nature and makes his crafts only from fallen trees. June has the job of selling his crafts in San Pedro. She was able to meet us at the Corona del Mar hotel and we negotiated to buy two carving boards and a bowl, three items to June's left in the picture below. All in all our trip to Belize was incredibly fun, informative and full of art at every turn. Haitian street art knows it will visit again!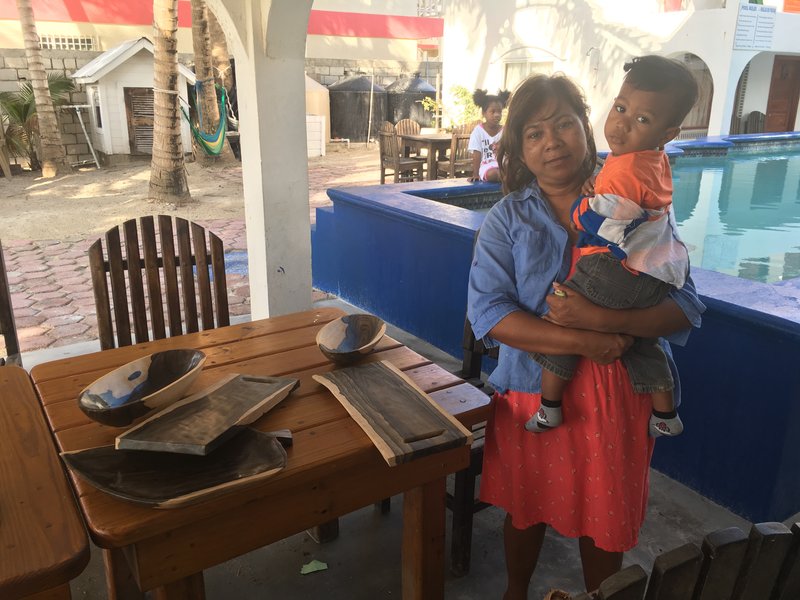 Camille Leveille  5/2017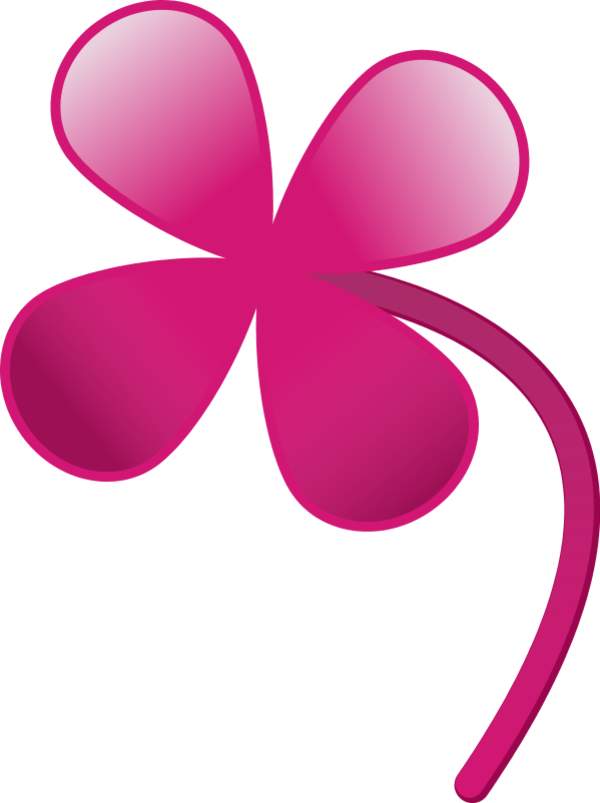 ---
---
---
Doc G's Brewery Exhibits Haitian Art 2015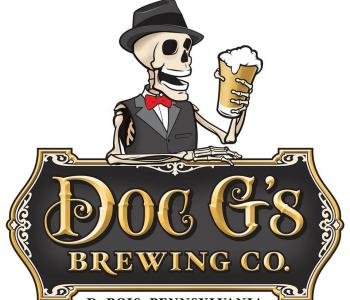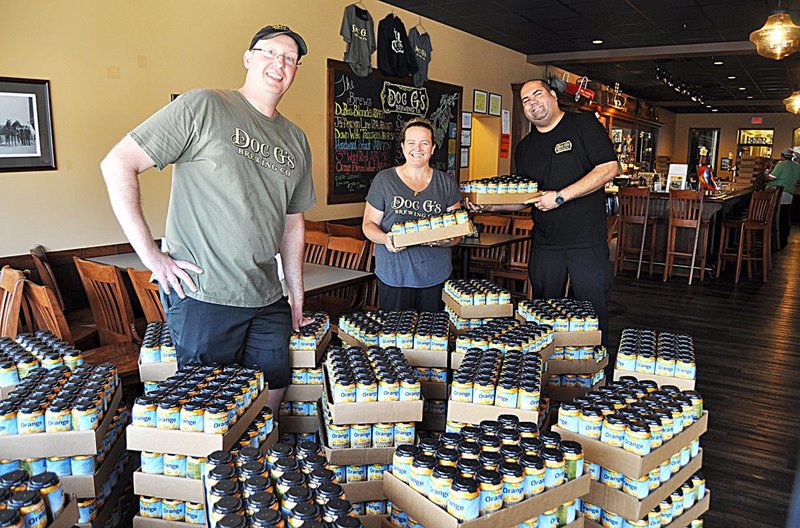 Haitian Street Art is delighted and honored to share our passion for Haitian art with the city of Dubois, Pennsylvania, thanks to Doc G's Brewery. Doc G's Brewing Company unveiled it's Brewpub location in December 2015. The founders Jeffrey and Jennifer Gilbert are thrilled to return industrial scale brewing to the Dubois area after many decades of absence. Jeff Gilbert was born and raised in Dubois and his family has served the community for many years from the mayor's office to the fireman's department.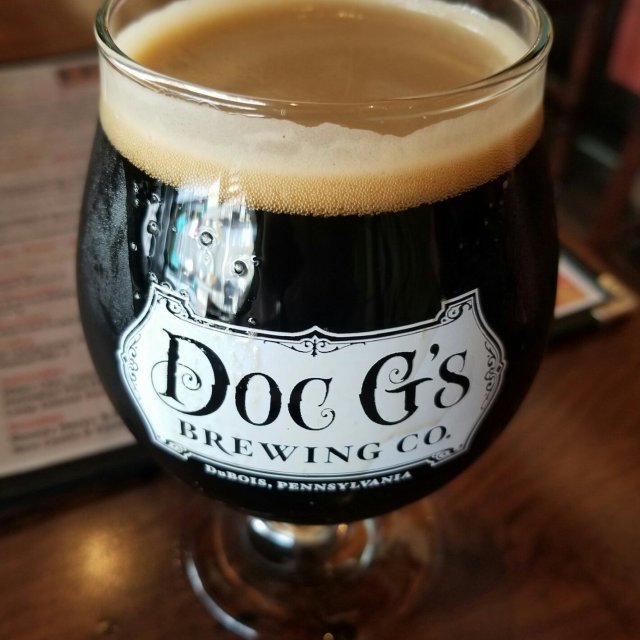 When we discussed with Jeff Gilbert about the possibility of displaying Haitian art at Doc G's he was enthusiastic to help promote, support and encourage Haitian street artists. Together we decided to display hand-selected creative and vibrant artwork in Doc G's Brewery for customers to enjoy while drinking tasty, cold and refreshing craft beers and eating delicious meals. For every artwork that is purchased Haitian Street Art will donate 15% of the sales to the artists in Haiti to encourage them in their artistic career.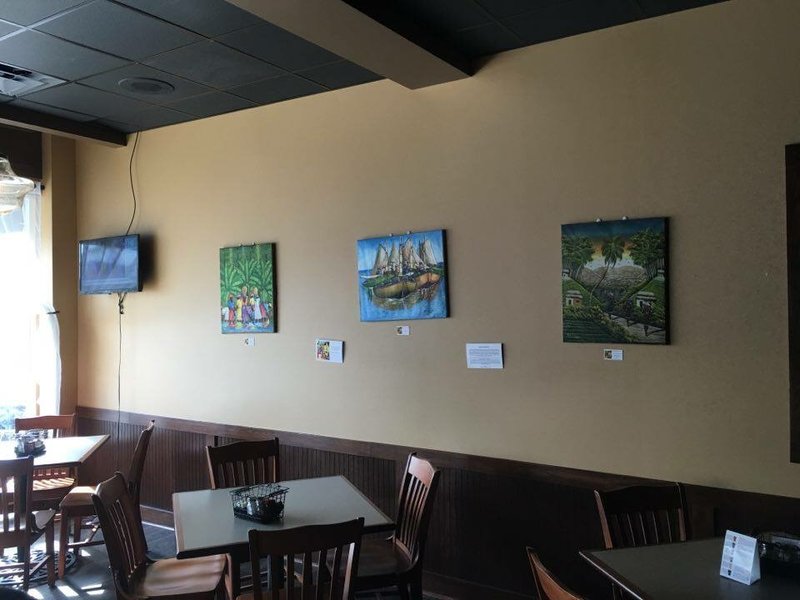 Doc G's Brewery is located at 208 West Long Ave, Dubois Pennsylvania and opens its doors from 11 a.m. to 11 p.m. They have year round and seasonal craft ales and stouts and a delicious food menu for everyone to enjoy. I have enjoyed 4-5 of their craft beers and have enjoyed the different distinct flavors. I have personally enjoyed the Jefferson Line IPA, 3rd Ward Red and Johnny Porter and have enjoyed various burgers and sandwiches. Haitian Street Art is looking forward to hearing positive reviews from the Dubois community about the Haitian Art on exhibit from March 15 to April 15.
Written by: Philippe Leveille 3.2015