Ronald Boyer : Plastic Paint Portraits
"Ronald it's an excellent and well executed painting but it would difficult for me to buy a large portrait painting of Bill Cosby right now."  This is what I told Ronald Boyer, after I had been examining for a few minutes several of his canvas paintings. This was in May 2018 approximately one month after Bill Cosby had been convicted on sexual assault charges. Ronald told me that he admired Bill Cosby growing up; due to his comedy, success, wealth and of course the Bill Cosby show. This is why he had painted the subject matter a few months prior. I empathized with him, telling him I admired Bill Cosby also growing up, as most people in the black community did. However, now with the criminal conviction of Mr. Cosby, it made it a difficult subject matter to purchase. So that day I ended up buying another beautiful piece of artwork from this great Haitian painter.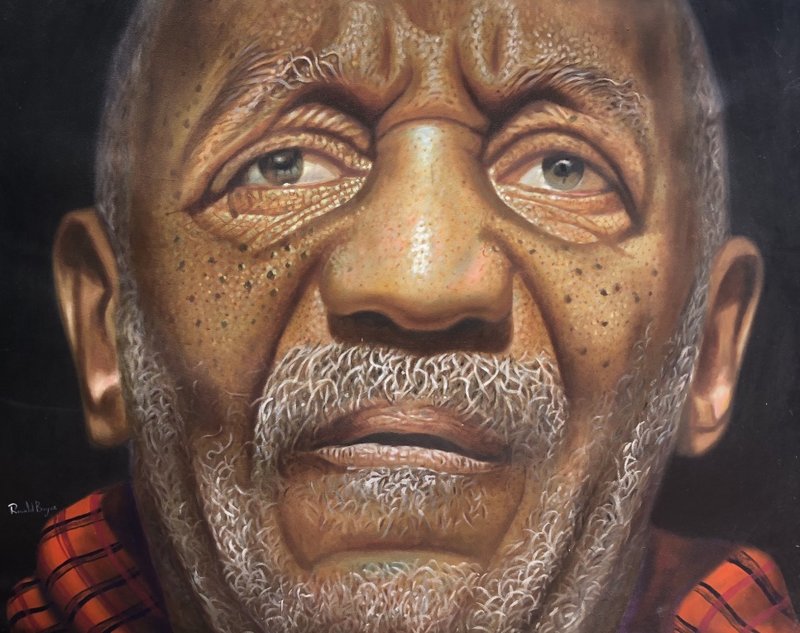 Ronald Boyer  is a 37 year old Haitian painter, born March 1981 in the city of St. Louis du Sud. As a young child, like most artists, he had an affinity and love for creating artwork every day. He also loved doing calligraphy as a young man and listening to many genres of music. Ronald Boyer eventually transformed that love for color, drawing, detail and fine strokes into a career as a painting artist. Growing up he admired the works of the Dutch painter Rembrandt and the Italian artist Michelangelo. He also admired the art work of great Haitian artists Philippe Attie and Pierre Augustin.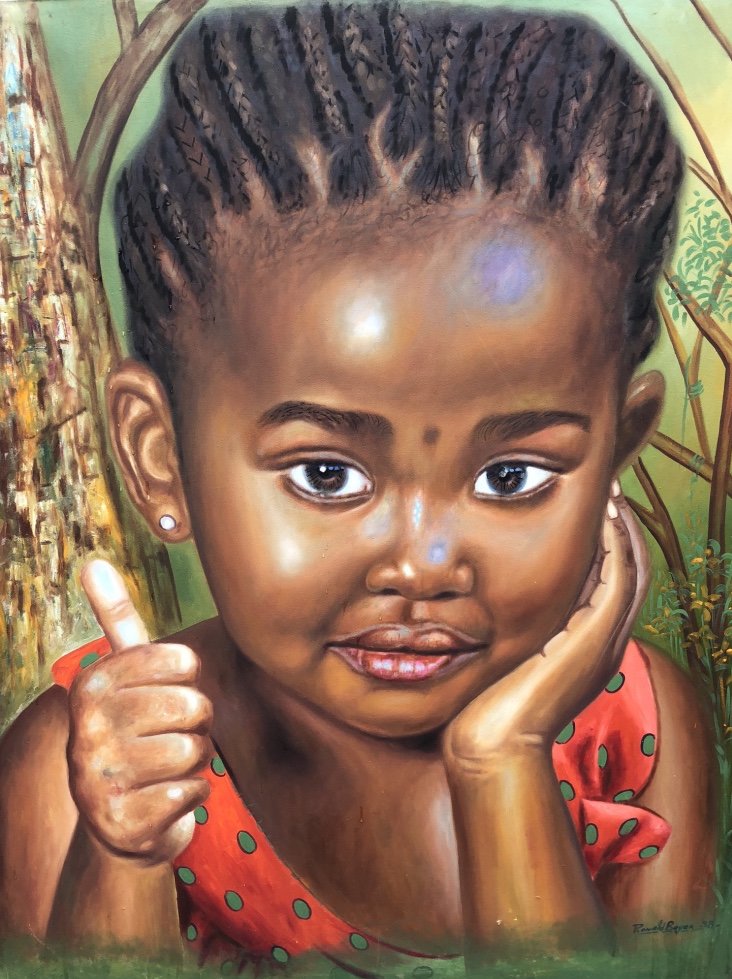 Ronald Boyer enrolled into formal art training at the age of 20, enrolling into the Fraternelle Unats School of Art, located in downtown Port-au-Prince. He attended the school from 2001 to 2006. The teacher at the school who had the most influence on him was Richard Barbot, an extremely talented and acclaimed Haitian portrait painter who has done commissioned portraits for the King of Morocco, Harry Belafonte and Lauryn Hill. Richard Barbot states that his art is focused on the beauty of spontaneous gestures and controlled figures. One of his students is the talented Philippe Attie, who Ronald Boyer also admires. Other students who were in the Fraternelle Unats School of Art with Ronald Boyer include Papouche and Latouche.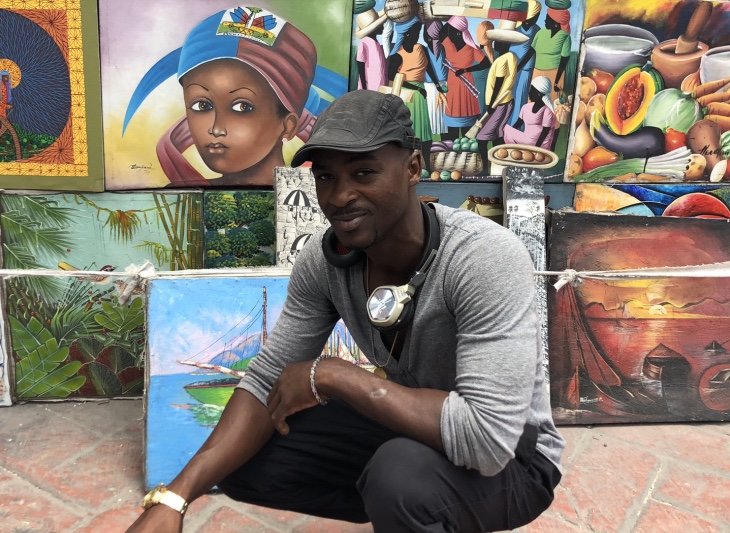 Ronald Boyer describes his creations as Art Plastic and Realistic. He paints all age groups, the child, the middle aged adult and the elderly senior, both portraits and realistic imaginations of individuals. He also paints the Haitian Woman Head, an abstract Haitian painting with the fusion of visual art pieces on the central visual theme of the beauty of a woman's head and face. Another great example of Ronald Boyer's artwork is the following painting of an imaginary elderly Haitian man, holding a rooster for a traditional cock-fight wearing red and blue clothes that represent the country of Haiti. He is thin, half-naked, extremely happy and a little bit crooked. This painting put a huge smile on my face, similar to the old man's as I know of the happiness and joy that can exist in the everyday life of Haitians. Ronald Boyer is a very talented artist and Haitian Street Art looks forward to his future artistic creations.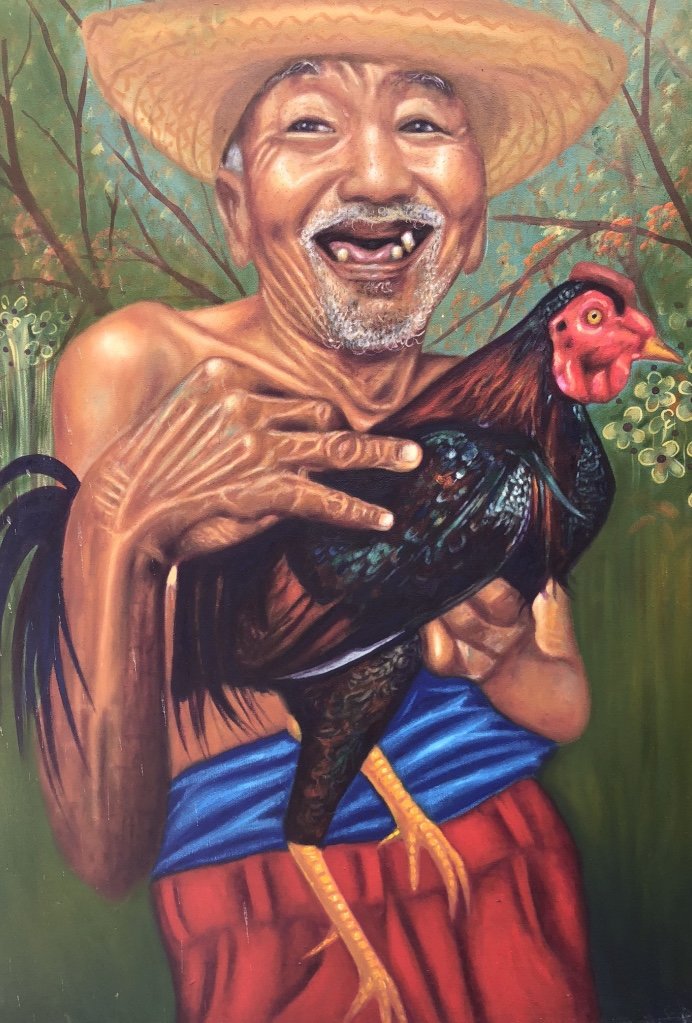 Written by : Philippe Leveille 9/2018


Carel Blain: True Beautiful Emotions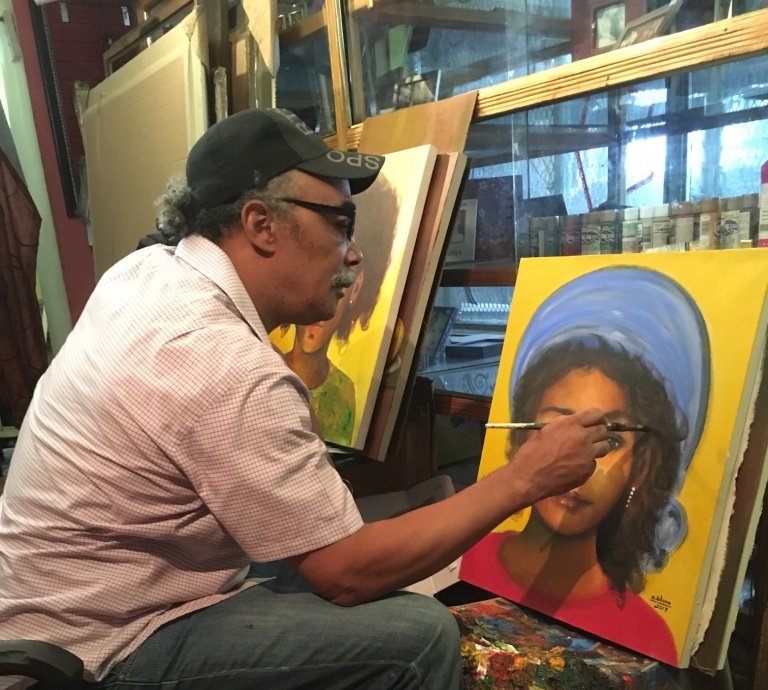 Carel Blain is an exceptional Haitian artist who paints thought captivating and soul revealing artwork on a daily basis. We have owned two Blain paintings for over 15 years. They were given to us as a gift from our cousin. We grew to cherish these paintings, each of a young child, as they reminded us of our childhood in Haiti with our family and friends.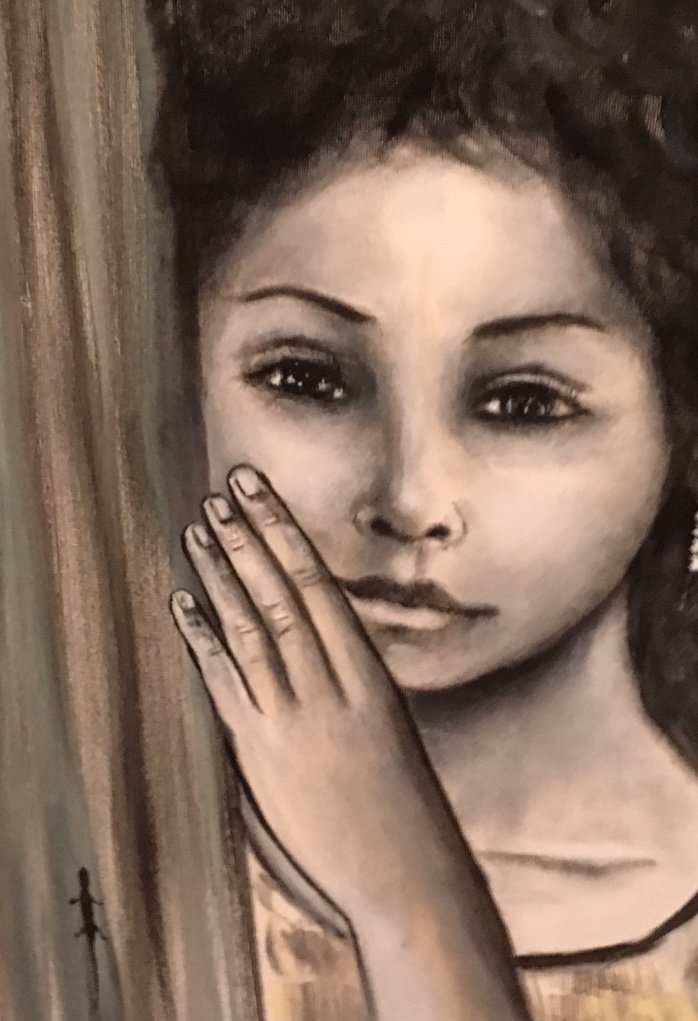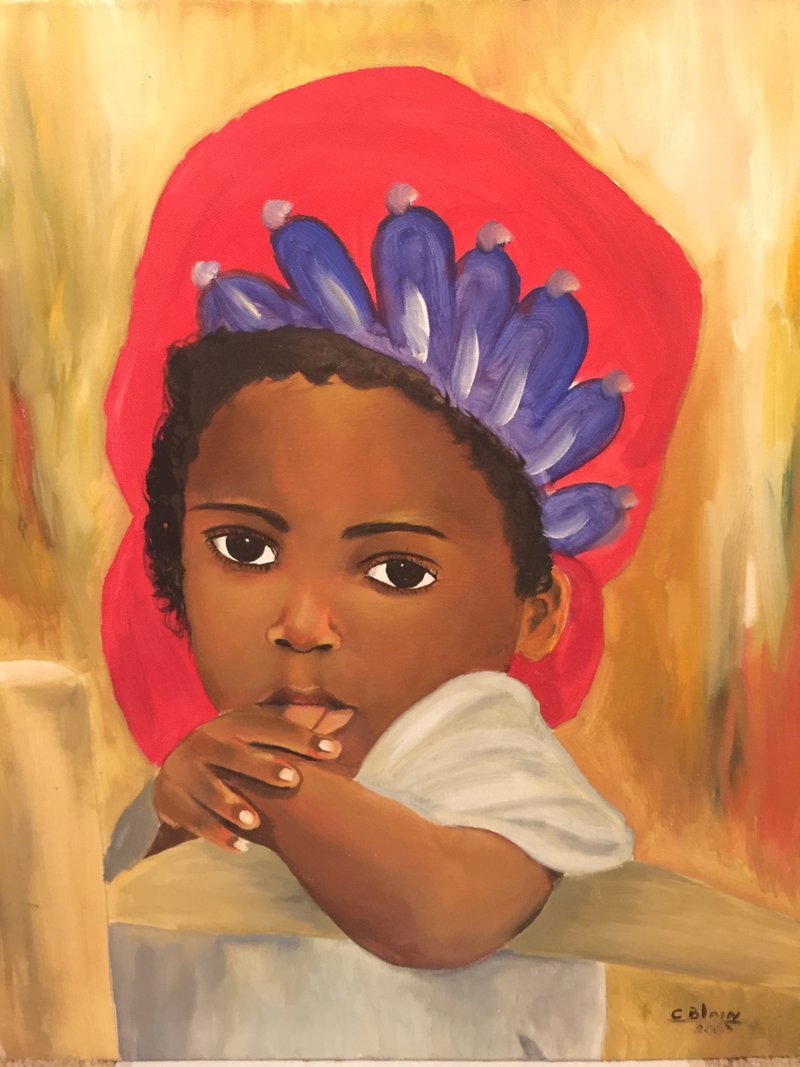 Carel Blain, born in 1961, was raised within the art community of Petion-ville. He told me his story while I was sitting in his art shop, located in Harry's Complex, which is next to the Royal Oasis Hotel. He obtained his classical education at the College Roger Anglade and then went to Miami where he studied at the Lindsey Hopkins Technical College. Carel Blain as a young child, admired renown artists Paul Cezannes and Van Gogh and he admired local artists Jean Claude Legagneur and Lesly Exume.  
Carel Blain's early art training was obtained in his neighborhood, sitting in local artist's homes observing them paint for hours. Afterwards Carel would practice and refine his own painting skill for many more hours. He says the best method of learning to create art is observing talented artists while they are at work. Carel Blain continues this apprenticeship method of teaching young artists in his community.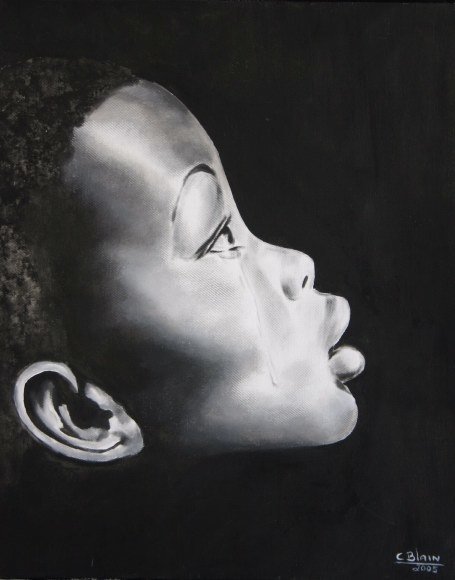 Carel Blain is well known for his acrylic paintings on canvas and hardwood of beautiful Haitian children. Often the children are focused on something enjoyable such as eating a sugar cane. He says that early in his career he focused on creating hyper-realistic artwork with a close to exact rendition of the subject matter. However throughout the years Blain's artwork has transformed into his signature depictions of the Haitian experience that stirs up attention, appreciation and admiration in local and international art exhibitions.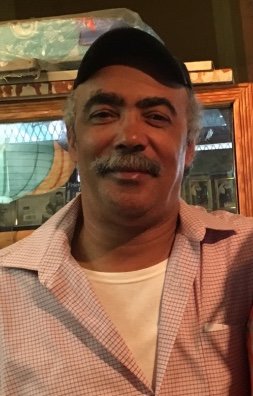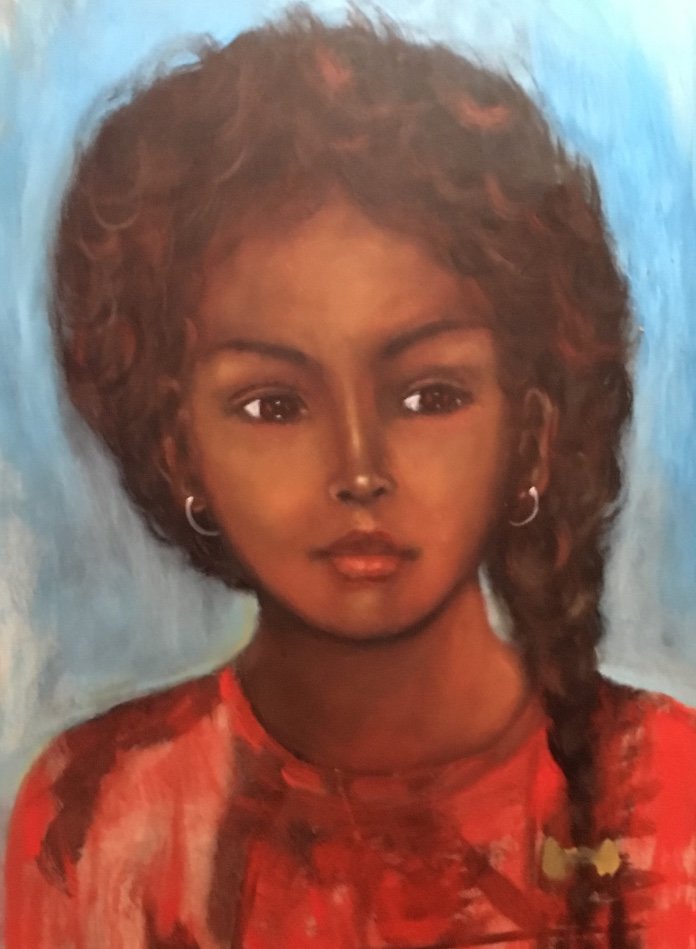 When I asked Carel Blain to describe his signature artwork of children, he revealed that he paints the emotion of innocence in youth. There is a resemblance in the children he paints, but they are different imaginations that he fabricates of the young Haitian. Having admired his artwork for many years, I often see more than just innocence, I see emotions of contentment, curiosity and calmness in his imaginary portraits of Haitian children.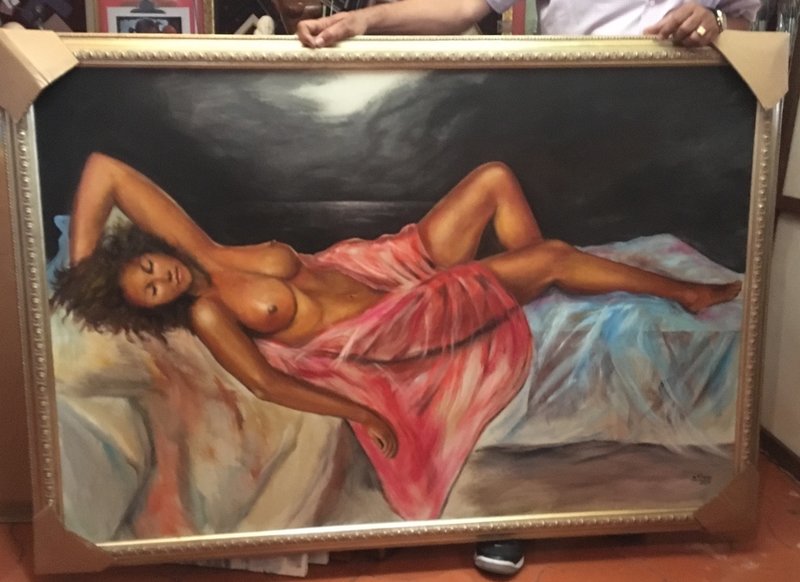 In the true spirit of an exceptional artist, Carel Blain is unwilling to limit himself to the style that brought him success as a top seller in the Haitian art world. He is versatile and extremely talented. Carel Blain continues to innovate and evolve his art form. In his art shop in Petion-ville are many styles of art work. He has stunning paintings of partially nude and sensual women draped in soft films of fabric. I bought a painting of a calm river flowing downstream through a heavily wooded landscape that day. I also commissioned Carel Blain to paint a portrait of my wife and daughter from a photograph and the painting surpassed all my expectations. I was able to surprise my wife with the portrait as a gift and she also instantly fell in love with it. Carel Blains paintings are wonderful due to the emotion and beauty in each of his art creations.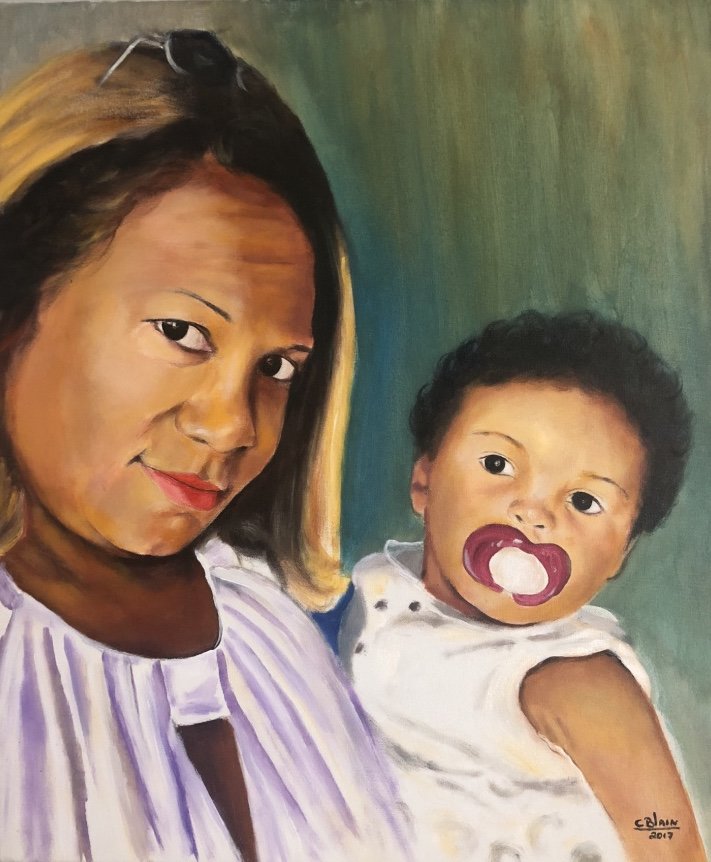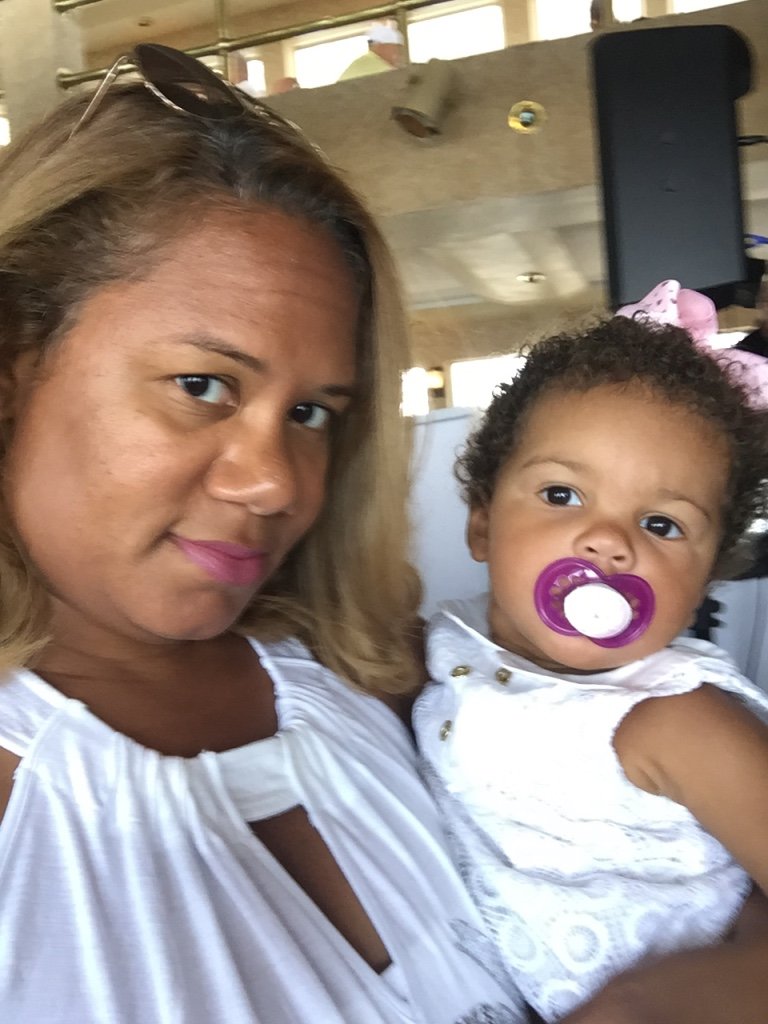 Written by: Philippe Leveille 12/2017
---
---
---
Ras Hailu: His Banana Leaf Art

Our favorite banana leaf artist at Haitian Street Art is Ras Hailu, formerly known as Bandy Payne, he created the art form and owns the only Banana Art Gallery in the world in Shashamane, Ethiopia. Ras Hailu was born in Aruba to his Arubian mother and his St. Vincentian father. He moved to St. Vincent and the Grenadines when he was a 1 year old child and grew up there.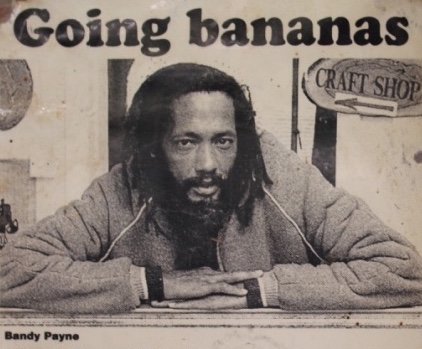 Ras Hailu says he was inspired by The Most High to create the banana leaf art medium at the age of 10 years old. He tells the following story.  One day when he was 10 years old,  while playing a game of "Tarzan and Jane" with his friends, they found a tree that had fallen down to the ground. They had dull wooden machete toys and they hacked joyously away at the bark of the tree until they had removed the top 3 layers.  The fallen tree was then illuminated by a bright ray of sunlight, on the spot that they had hacked away at the bark, which exploded into a kaleidoscope of many colors.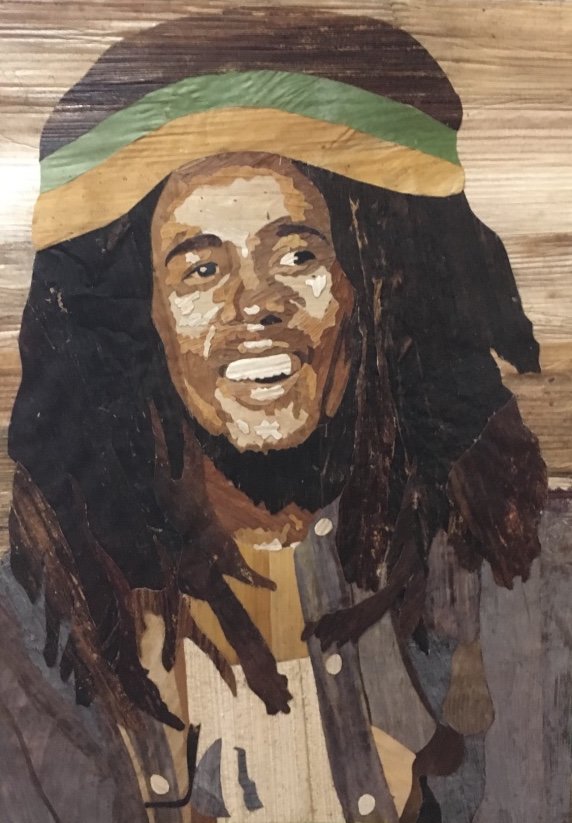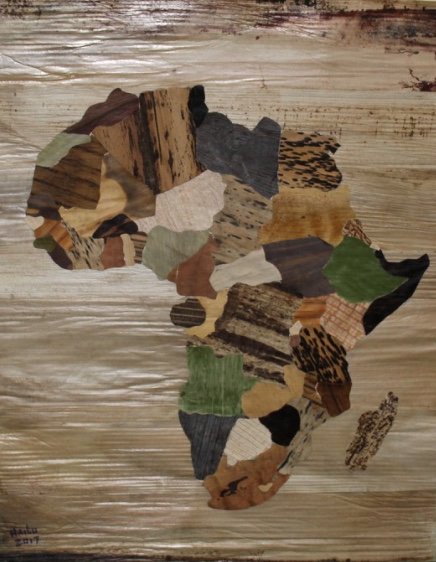 Ras Hailu was so moved emotionally by the beauty that he picked up the tree and told his friends that it was too beautiful to throw away. A few days later Ras Hailu was visiting a hotel located in Bequia, the second largest island of the Grenadines. On the hotel wall he saw an artwork composed in a collage manner of various plants including flowers, bamboo, corn husks, coconut fibers and banana leaves. That day he decided to create artwork from the banana bark and leaves. There was plenty of material around him in the banana fields, being that banana fruit was the major export of St. Vincent and the Grenadines.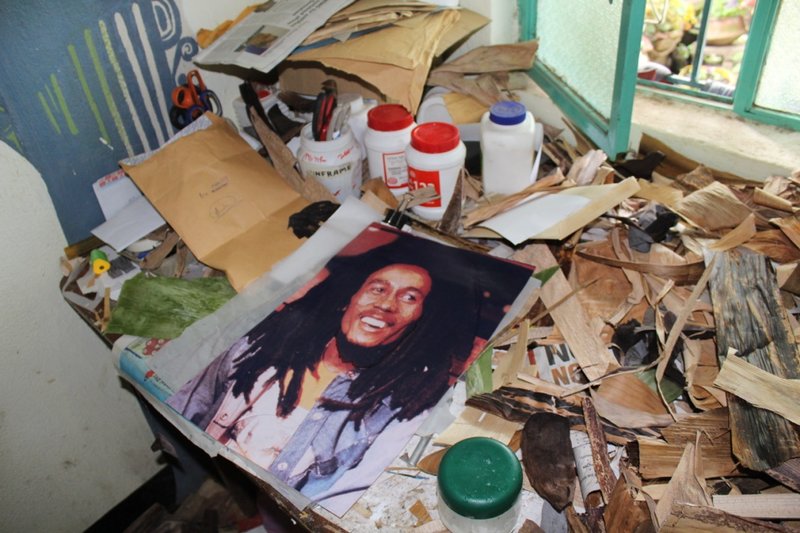 Ras Hailu, following that wonderful week of inspiration, practiced making his banana bark and leaf artwork for 20 years in St. Vincent and the Grenadines. He uses 3 parts of the banana plant; the banana leaf, the banana bark and the banana blossom. He has found in his time mastering his artwork, that the banana plant has 5 shades of black, 4 shades of white and various shades of tan, brown, gray, gold, green and blue. He also found that banana bark, blossom and leaf provide many different textures that can be applied to his art. Ras Hailu does not use any dye, all the colors and textures are natural to the banana plant.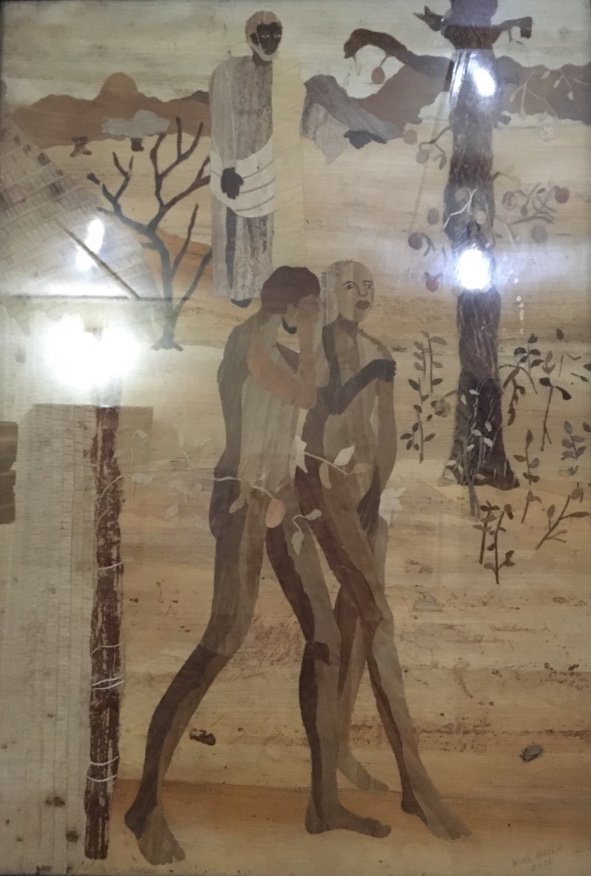 Ras Hailu's early achievements include winning the Shell Antilles Art Competition in 1986 from 101 competitors and being a finalist in the Benson and Hedges Art Competition in 1988. Ras Hailu then further pursued his artistic studies by traveling to Europe and studying at Green Hill College from 1990-1994 where he earned a Diploma in Art and Design and continued to achieve acclaim in the international art community. In 1994 Ras Hailu emigrated to Ethiopia and in 1995 he taught art at the Sandford English School.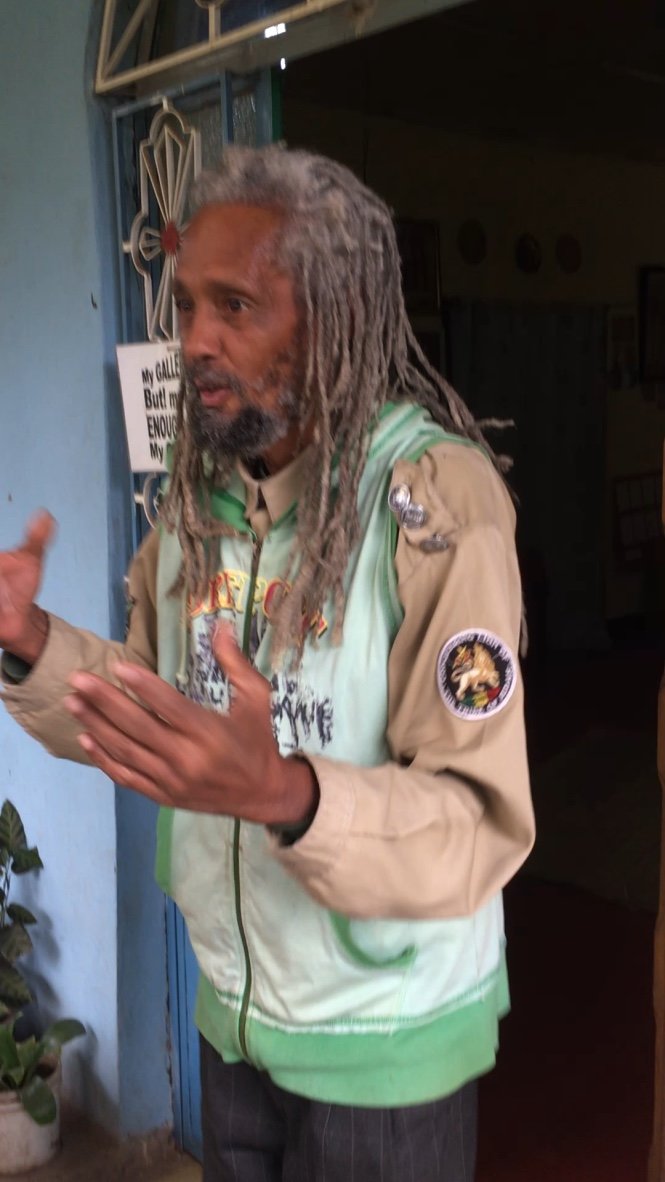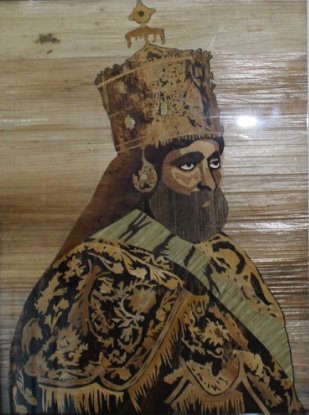 Ras Hailu, formerly Bandy Payne, currently resides in the town of Shashamane where he continues to create wonderful banana leaf art. We were blessed when we met him in our recent trip to Ethiopia in August 2017. He draws his inspiration from the rural life, rural landscapes and key figures in the Rastafarian religion. At Haitian Street Art we have to continue to look for all the beautiful things in life. Ras Hailu told me and my wife the following words of wisdom and truth :
 " The most beautiful things are free and they are all created by the Most High".
Written By: Philippe Leveille 08/2017
---
---
---
Haitian Knife Paintings: On Street Impasto
Beautiful pieces of artwork are found throughout Haiti and many are found on the streets. In large cities such as Port-au-Prince, vendors hang paintings for sale on the street. Some of the paintings are created using a painting knife. When describing the paintings the vendors will often reveal this to a customer by saying "Yo fel avec couteau" which translates to "They made it with a knife". This style of painting is called Impasto and has a historically rich background.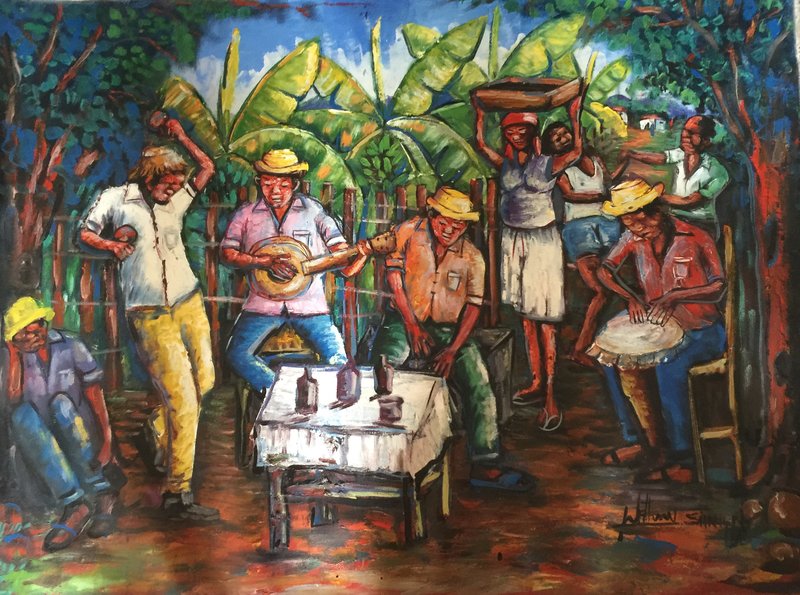 Impasto is a painting technique that was used by renowned painters such as Rembrandt, Vincent Van Gogh and Monet. In the Impasto style undiluted oil is directly applied to a surface using a steel painting knife. Usually the paint is applied thick enough for the painter's strokes to be visible. It is often seen as a sign of confidence in a painter. Impasto is a wonderful technique to display certain visual effects. It is used to adjust the way light is reflected off the painting surface. It is used to display smooth, sandy or rugged textures. It is a great technique to show fine details such as skin wrinkles or folds in clothes. It is used to show motion in an object, express the artist's emotion and to suggest a dream like quality in Impressionism.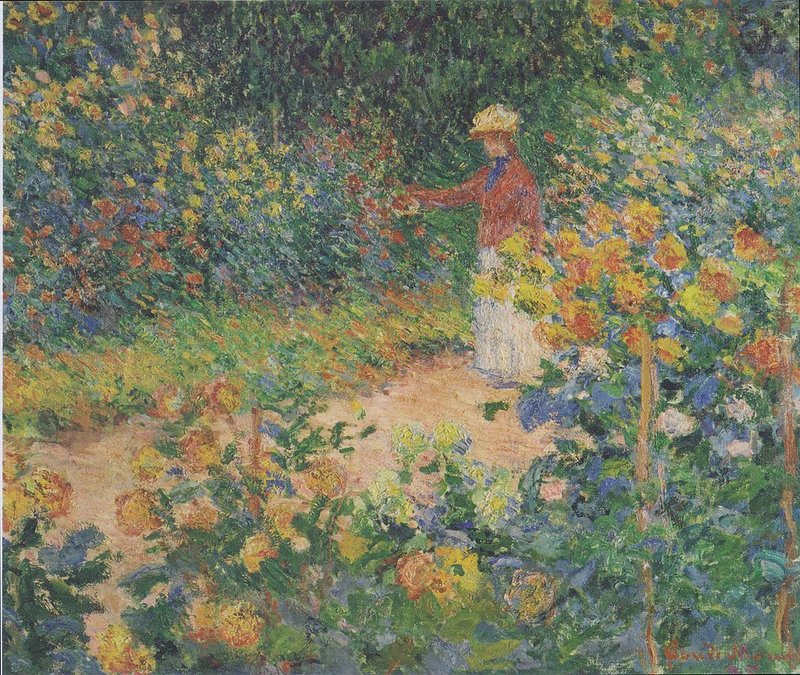 The knife paintings created by the Haitian artists in the Impasto style exhibit rich color, beautiful blending, great detail and extraordinary beauty when executed by a talented artist. Different themes are popular including country village life, fishing scenes in the ocean, traditional celebrations and outdoor market scenes. Many of the beautiful paintings are signed St. Louis and these are from 3 artists in the same family. At times these artists sign there last name only, while other times they will sign their full name. These paintings are easy to spot due to the thick paint on the canvas.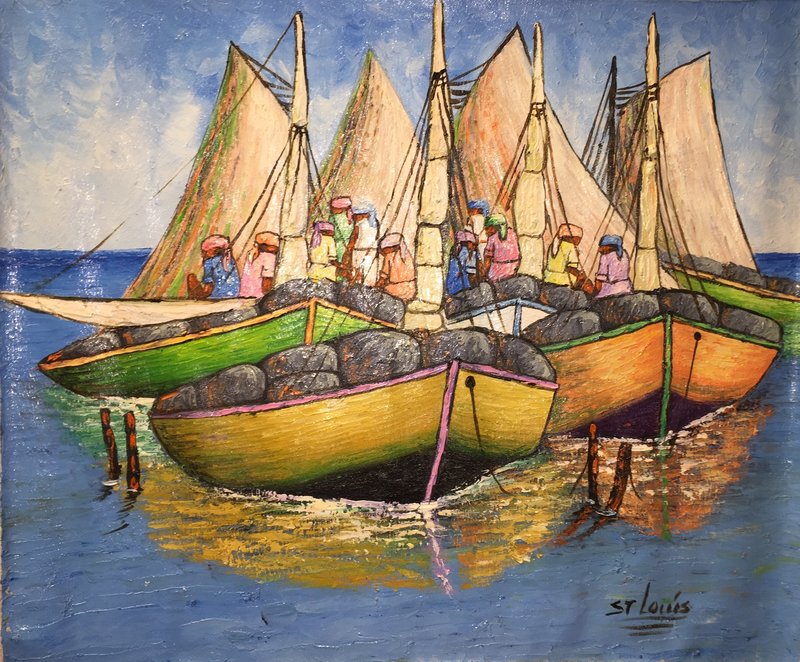 Written by: Donald Leveille 2/2016
---
---
---
Haitian Ra Ra Music: Expressive Revolution
If you travel through a town in Haiti on an evening during Easter Week you will likely encounter a Ra Ra music band being followed by a procession of Haitians enjoying themselves in dance and song.  The Ra Ra music band travels through town every night following the same route, stopping at crossroads, government buildings, leader's residences and other important parts of town. While the band travels it's route many people who live in that part of town hear the music and join in the celebration.The Ra Ra songs are often religious and voodoo religious rituals are performed or political and controversial discussing an important topic for the population that year. But not always, sometimes the songs are just in celebration and are about light-hearted and comical topics.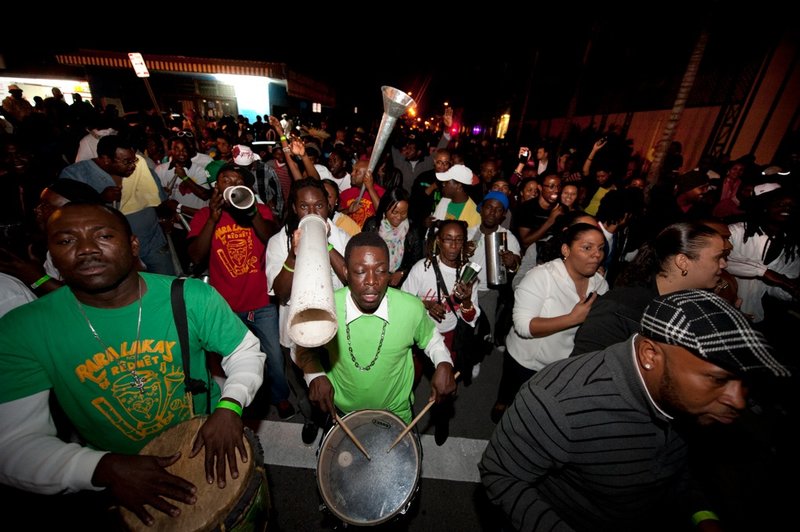 At first glance a tourist may think that this is a completely disorganized process, however this is not true. The Ra Ra band and procession often shut down or significantly slow down traffic as they walk and dance through the streets. They have members who have been designated to help with that process by directing or stopping traffic until the procession has passed. The leader of the Ra Ra music band leads the band through it's route, often he is the one towards the front blowing the whistle. There is also usually a band member at the rear of the procession who encourages stragglers to catch up and keeps the procession as compact as possible. Most Ra Ra music bands also have individual flags and iconic colors which symbolize the area from which they originate and the beliefs of the music band. Most Ra Ra band members wear their iconic colors during their performance.



Ra Ra music is performed using various hand-made instruments with African origins. The main instruments are a few Vaksens and a few Gwo Tambous. Vaksens are hand-made hollow wooden instruments with a consistent diameter or hand-made hollow metal instruments with a trumpet like shape that are a few feet in length. The Vaksens originated and were inspired from African instruments such as the Ethopian Berta Trumpet or the Saharan Fulani Trumpet Flute. A Vaksen is a wind instrument that plays a single smooth, low pitched and trumpet like note that can be heard for miles when it is blown into by the musician. To create a main melody each Ra Ra band needs at least 2 alternating Vaksens as each one only plays a single note. The Gwo Tambou which means large drum is a large wooden drum that is goblet shaped with a single head that is covered with an animal skin or synthetic membrane. The Gwo Tambou originated and was inspired from African instruments such as the Bougaraboo. The Gwo Tambou plays full, deep and rich sounds that can be heard for miles when struck by the musicians hands or with a stick. The Gwo Tambou plays the main drum tempo for the Ra Ra music and there are usually a few in the music band.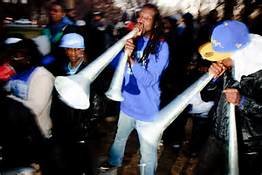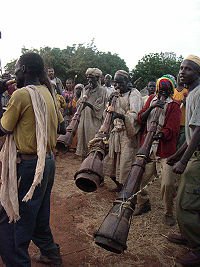 The melody is then further enhanced by various other hand-made percussion and wind instruments including the Cha Cha, Grage, Ti Twompet and Ti Tambou. The Cha Cha is a closed shaker metal instrument with many tiny pebbles placed inside that when shaken makes a distinct sound when the many pebbles strike the hard outer surface. The Graje is a percussion metal instrument with multiple rough edges along one side that makes a distinct sound when a stick is quickly rubbed along that edge. The Ti Twompet is a small trumpet like wind instrument and the Ti Tambou is a small drum. All these instruments enhance the main melody by adding various higher pitched sounds to the main low pitched melody made by the Vaksens and the drum tempo of the Gwo Tambous. All these instruments originated and were inspired by African hand made instruments.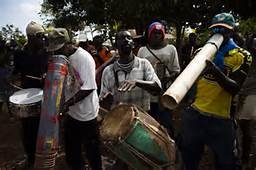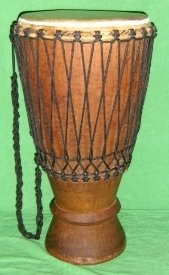 The Ra Ra music tradition began in the 17th century during the Haitian revolution. Escaped slaves called Neg Mawon would play music and dance to songs with Central and Western African origins in the mountains where they were hiding. This was an expressively defiant statement by  the former slaves which was aimed at their former French colonial slave masters as the music could be heard for miles. The escaped slaves were defiantly playing music and singing songs with African origins and practicing their prior African religion of voodoo. At times the escaped slaves would go to battle playing this music and singing these songs. We hope that you have a new appreciation for this beautiful art form. 
Written by: Donald Leveille 1/2016
---
---
---
Fritay or Fritailles: Serve Food Hot
Fritay is an assortment of various Haitian fried food products that are sold on the street by cooks/vendors. Fritay in Creole translates to "Fritters" or "Fried Pieces".  Fritay often includes the following: Griot, Tassot, Bannanne Peze, Accra and Marinade that are usually enhanced with a side of Pikliz. Griot is fried pork chunks. Tassot is fried beef or goat chunks. Bannanne Peze is twice fried green plaintain slices. Accra is fried malanga vegetable pieces. Marinade is fried flour balls filled with chicken or fish. Pikliz is a pickled solution of shredded cabbage, carrots, onions and peppers that adds a wonderful spicy heat to the Fritays. Fritay is sold mostly in the evening at various spots in the city where cooks/vendors have established their business. Customers buy an assortment of Fritay, picking on the spot which type and how many Fritay they want for their meal. For many Haitians a Fritay dish is their evening meal while for others it is a late night delicacy. With experience customers learn the best spots in their city to enjoy a delicious hot serving of Fritay. Below are a few Fritay recipes for your enjoyment.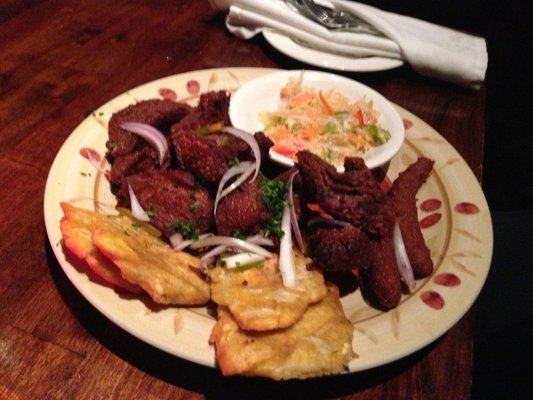 ACCRA or FRIED MALANGA:
Ingredients: 1 chopped onion, 2 garlic cloves, 1 egg, 2 cups of grated malanga, 1/2 tablespoon flour, 1/2 cup of vegetable oil, 1 teaspoon finely chopped parsley, 1 tablespoon salt, 1/2 tablespoon crushed hot pepper, frying pan(item).
Recipe: Mix all the ingredients except the vegetable oil in a large bowl. Let the malanga batter sit for 1 hour. Pour the malanga batter by spoonful of individual servings on a frying pan with the heated  vegetable oil. Fry on medium high until golden brown on both sides. Serve hot.
BANNANN PEZE OR FRIED GREEN PLANTAINS:
Ingredients: 2 plantains, 1 tablespoon vinegar, 1 tablespoon salt, 0.5 tablespoon granulated garlic, 1 cup water, 1 cup vegetable oil, 1 plantain press(item), frying pan(item).
Recipe: Peel plantains and cut at an angle into 6 pieces. Mix vinegar, salt, garlic, water in a small bowl and set aside. Place vegetable oil in frying pan on medium heat and cook plantains for 5 minutes on each side. Remove plantains and flatten using the plantain press. Soak plantains in vinegar mixture. Place plantains one more time on frying pan with vegetable oil and cook while turning plantains on each side until crispy and golden brown. Place fried plantains on paper towel to remove excess oil. Serve hot.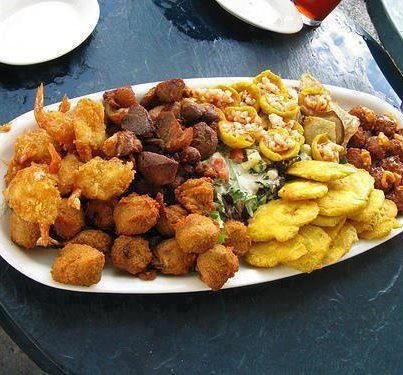 GRIOT OR FRIED PORK CHUNKS:
Ingredients: 5 pounds boneless pork shoulder, 3 tablespoons of salt, 1 cup sour orange juice, 1 tablespoon minced garlic, 1/2 tablespoon of ground black pepper, 4 sprigs thyme, 1/2 tablespoon seasoned salt, 1 scotch bonnet green pepper, 1 cup water, 1 cup vegetable oil, 1 Dutch Oven(item).
Recipe: Preheat oven to 400 F. Place chunks of boneless pork into a large bowl. Pour 2 tablespoons of salt and 1/2 cup of sour orange juice unto pork. Mix well and let sit for 2 minutes. Rinse meat with cold water and drain meat well. Place clean meat  and 1 cup of water into Dutch oven. Add another 1/2 cup sour orange juice along with another 1 tablespoon salt to pork chunks. Also add minced garlic, ground pepper, fresh thyme, seasoned salt and scotch bonnet green pepper to pork chunks. Mix all the ingredients thoroughly. Cook for 1 hour in Dutch oven stirring occasionally until meat is fully cooked and tender. Serve hot.
MARINADE AU POULET OR CHICKEN FLOUR FRITTERS:
Ingredients: 3 cups of flour, 1 cup water, 1 tablespoon finely chopped parsley, 1 tablespoon of crushed hot pepper, 2 tablespoons of baking power, 1/2 tablespoon salt, 1 cup of cooked, boneless, shredded chicken, 1 cup vegetable oil, 1 frying pan(item).
Recipe: Mix well flour, water, parsley, hot pepper and baking powder in a small bowl. Let mixture sit for 1 hour. Add boneless shredded chicken to the middle of mixture along with 1/2 tablespoon of salt. Heat vegetable oil in frying pan. Drop marinade mixture by spoonful into individual servings unto pan. Fry until golden brown. Serve hot.        
Written by: Donald Leveille 11/2015
---
---
---
BIDONVILLES: HAITIAN DRUM CITIES
Bidonvilles, commonly called Shanty Towns in English, have become a new source of inspiration for Haitian art. The word Bidonville was coined in 1953 in France to describe Morocco to literally describe a town made of bidons or oil drums. Today , a Bidonville represents an area usually in the perimeter of a large city where there is a lack of social structure, poverty, overcrowding, poorly built structures, lack of electricity, lack of potable water and poor hygiene. As one travels through Port-au-Prince they will notice that Bidonvilles come in all shapes and sizes. There are classic mega Bidonvilles such as Cite Soleil or Jalousie. However even the wealthiest neighborhoods often have a small Bidonville consisting of a few homes. These small scale Bidonvilles can be attributed to the increasing number of Haitians moving abroad that are often forced to leave property behind, on which small houses are built, many times without the owner's permission or knowledge.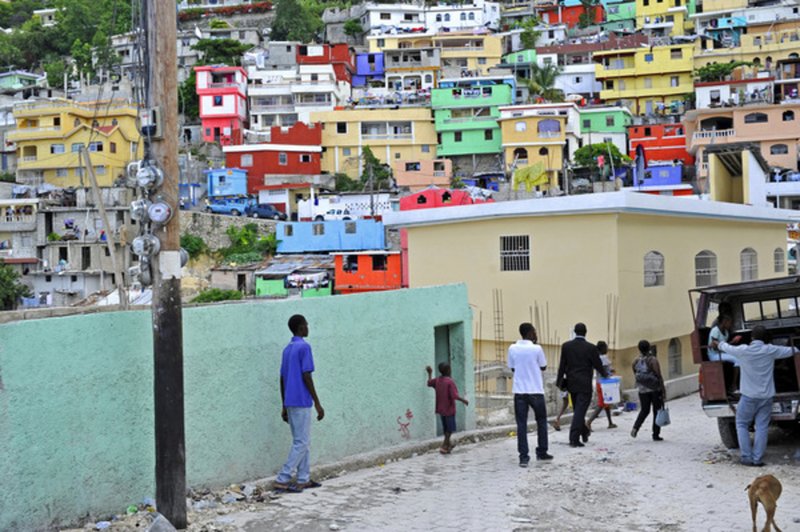 An inquisitive mind after reading this description of a Bidonville will undoubtedly ask, where does the artistic inspiration come from? The painters that are moved by this scenery sense positive energy flowing from this reality. The painters sense the desire to keep on fighting for the future knowing that God has better days planned. The artists have a willingness to share a smile with strangers on their path. The easiest components for the painters to capture are the vibrant colors of the houses, the rough background landscape. Next the artists add a theatrical cast of characters that can include street vendors, hard working men and women, caring mothers and fathers taking care of the household, children playing and sometimes even a friendly argument between neighbors.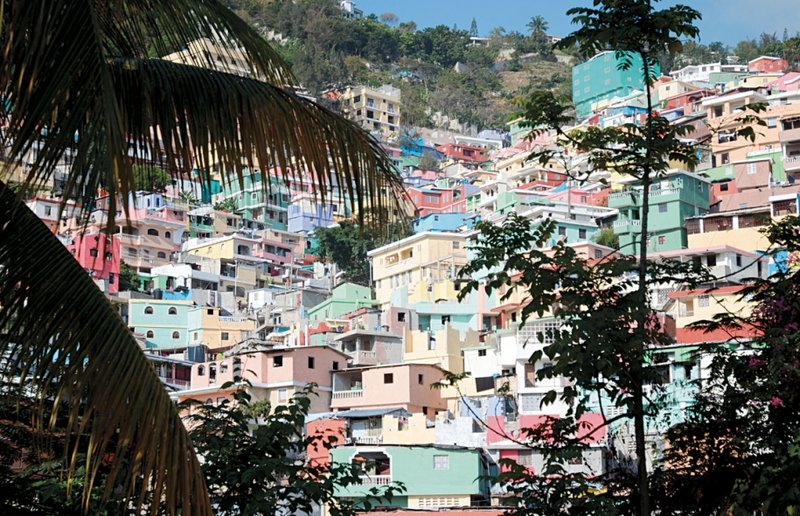 As enthusiastic as we are to see the living conditions improve for our brothers and sisters and hope for the complete disappearance of these Bidonvilles, for the time being these representations of this facet of Haiti have become a staple of painting genres and no collection of Haitian art is complete without your very own Bidonville.
Written by: Donald Leveille 9/2015
---
---
---
Tap Tap: Art on Trucks
A Tap Tap is a privately owned transportation vehicle that is usually a pickup truck or a bus that has been modified to transport a lot of passengers in a fixed route for a fixed price in the country of Haiti. The Tap Tap is modified to transport more passengers by adding benches for people to sit on and a carpenter also makes a wooden encasement to protect the passengers from the environment. The exterior encasement is brightly painted with various themes by local Haitian artists. Common Tap Tap themes include religion, sports, music, family portraits, political themes and various others depending on the owners personality and beliefs. The word Tap Tap originates from either the creole phrase that means very quick or by how a passenger alerts the driver that they have arrived at their destination, which is by tapping on the side of the vehicle.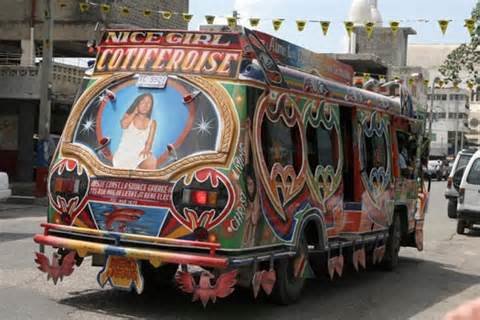 Having grown up in Port-au-Prince, I have travelled by Tap Tap many times. The driver usually waits at a start destination until the vehicle is full to start the journey. The passengers on a Tap Tap are usually friendly and will give elderly folk their seat if there are no free seats available and sometimes passengers let other passengers sit on their laps for more comfort. Tap Taps have no designated stops, so each passenger has to pay attention and alert the driver when they have arrived by either tapping on the side of the vehicle or yelling "I have arrived". When the Tap Tap stops the passenger has to either walk to the front of the vehicle to pay the driver or sometimes there is an individual riding in the back who has been designated to collect the travel fee.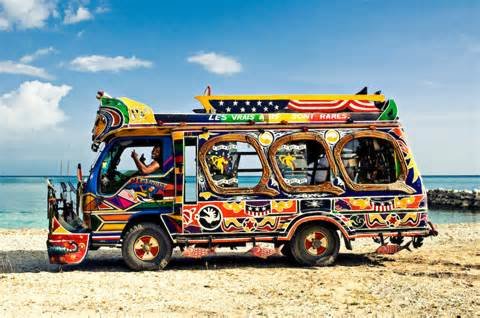 Written by : Philippe Leveille
06/2015
---
---
---