Jacques Junior
The parents of Junior Jacques made a living working hard in modest blue collar jobs and now he works hard to support his family as a painter. Jacques, Junior was born in 1979 in the Petit Trou de Nippes region of Southwest Haiti. His father had a career as a cordonnier/shoe fabricator and his mother cultivated in the agricultural fields daily. In 1981 the Jacques family relocated from the Nippes department and settled in the capital city of Port-au-Prince and continued to raise their family there. Jacques grew up in the bustling city of Port-au-Prince.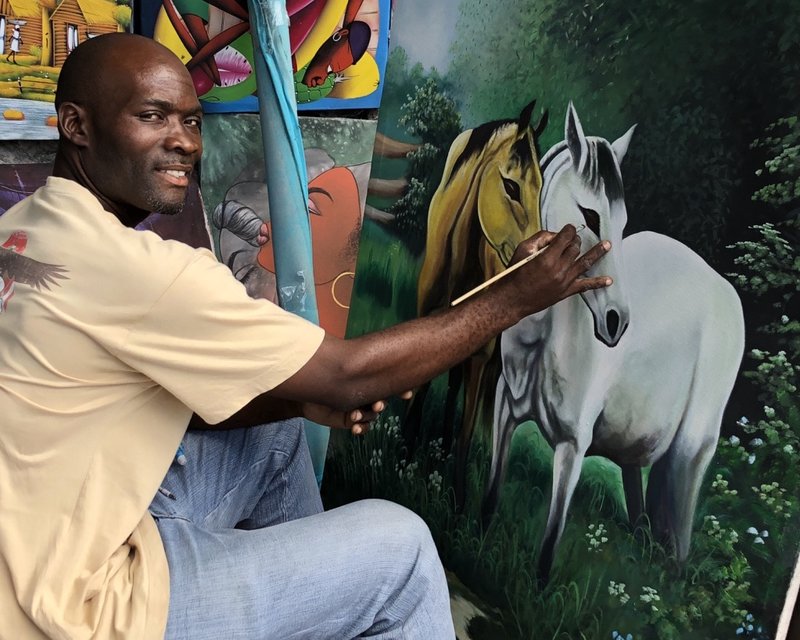 At the age of 24, a young unemployed Junior Jacques, stumbled upon an old used paint brush on the floor. Jacques says that day he decided to use this simple art tool to generate income for his family. Jacques in the next few days bought about 30 dollars worth of art supplies. He then kick-started his journey by imitating and recreating another Haitian artist's work that depicted a young Haitian girl. Jacques then showed the original painter his recreation of his artwork. He says the original painter was initially supportive of his work but after Jacques imitated and recreated a few of his paintings he became apprehensive and told him to completely stop imitating his artwork.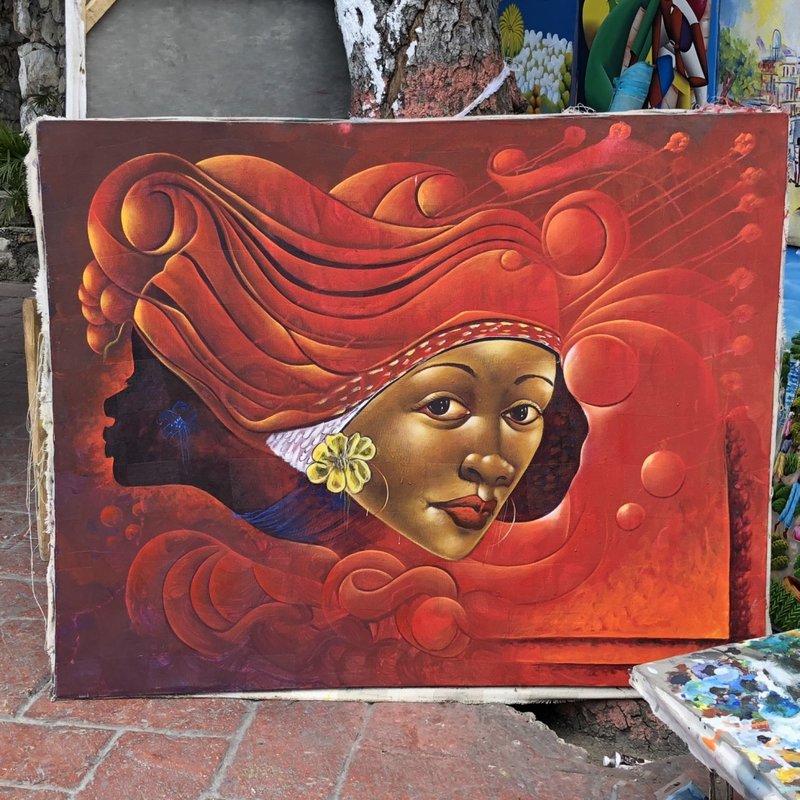 Jacques that year continued his self-teaching process of learning to create art paintings. He was constantly observing, learning and practicing daily.  In 2004 he was able to sell his first few paintings, which encouraged him in his pursuit of art as a career. Jacques became known for his Haitian women head paintings among his customers. Word of mouth spread about his talent and he began to sell more paintings. Jacques says many times customers would ask him to bring paintings to their home, where the customer could pick out their favorite art creation to purchase.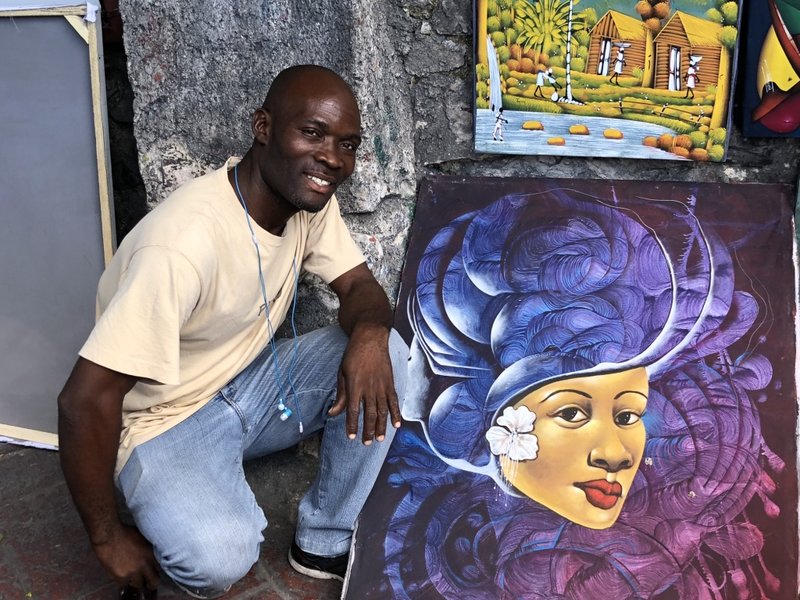 Jacques is inspired by many Haitian artists. Jacques admires the artwork of the following Haitian painters: 
Moab Polidor, Rouelle Flambert, Ernse Maxime and Lafaille Raymond. Jacques uses his love of art, color and beauty to create his artwork on a daily basis. Most days, Jacques is working on 3 or 4 different paintings. He says most of his paintings take between 5 to 15 days to completely finish. Haitian Street Art really loves the artwork that Junior Jacques has learned to create through practice and hard work and we hope he continues to use that "Old Paintbrush" of his every day. 
---
---
---
Louis Saurel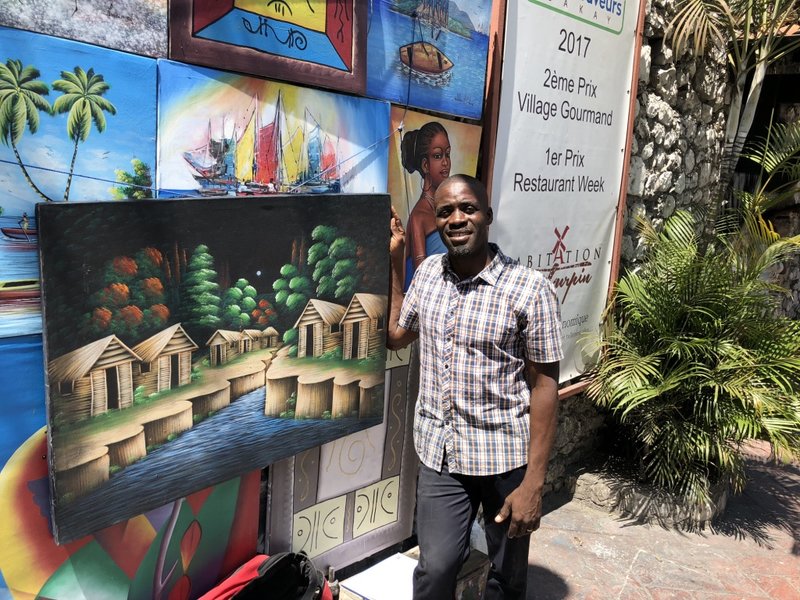 Stopping by Petion-ville to meet with Haitian artists, I met Louis Saurel(1975- Present). He is a Haitian painter who focuses his art on abstract themes, musical themes and the local countryside. His art can be found, hanged up on the walls of Petion-ville, and a few times a week he is at his vendor spot located close to the Hotel Kinam. The days he is not at his vendor spot, others have the chance to sell artwork at his spot to fellow locals or to the tourists.
Louis Saurel is a 43 year old experienced artist born in Martissant Port-au-Prince in 1975. He has been selling his paintings in the streets of Port-au-Prince for  over 20 years. His entry into painting first arose due to a love of doing calligraphy as a young man.  After he learned the skill of calligraphy, he began to learn the craft of creating paintings. Once Louis Saurel was skilled enough in creating paintings he began to sell his art close to the Toussaint Louverture Airport. After a few years he moved to a new location and sold his art in Champs de Mars close to the National Palace. More recently he has been selling his artwork in the streets of Petion Ville.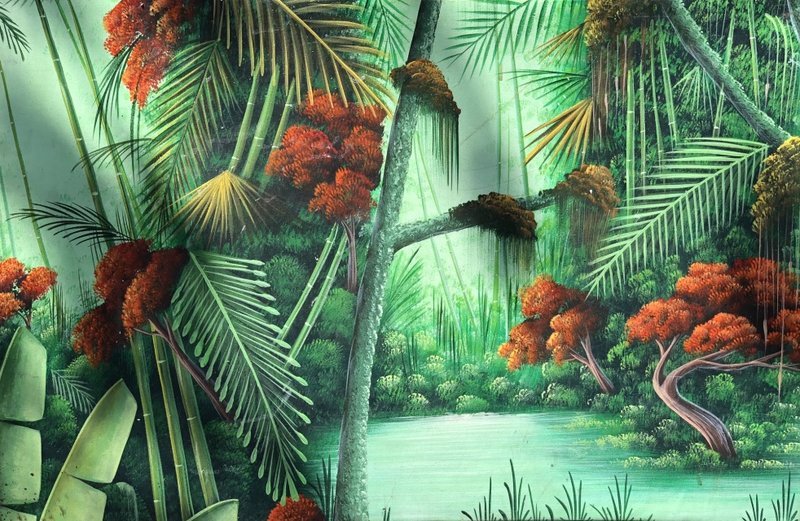 Louis Saurel was taught the craft of painting in the workshop or atelier of Rodriquez Joseph and Frantz Casil when he was an older teenager. In the beginning his teachers focused on teaching him to improve his drawings, and once he had done so, they taught him how to create paintings from his drawings. Louis Saurel says he has passed his love of art and drawing to his 6 young children, who are all currently going to school.  
When I asked him who his favorite Haitian artist is, he smiled, and said by far his favorite artist is Lyonel Laurenceau. He says he loves the masterful art that this Montreal based Haitian prodigy has created over the decades of his life. I smiled back and asked him what other Haitian artists have inspired him and he mentioned a few more names including Jacques Val Bruns, Xavier Neriston, Wilder St. Louis and his 2 brothers. I was thankful to hear the names of a few Haitian artists who inspire others and we hope that we will meet them very soon. I thanked Louis Saurel for his time and encourage others to buy Haitian art from this talented artist just as we have at Haitian Street Art.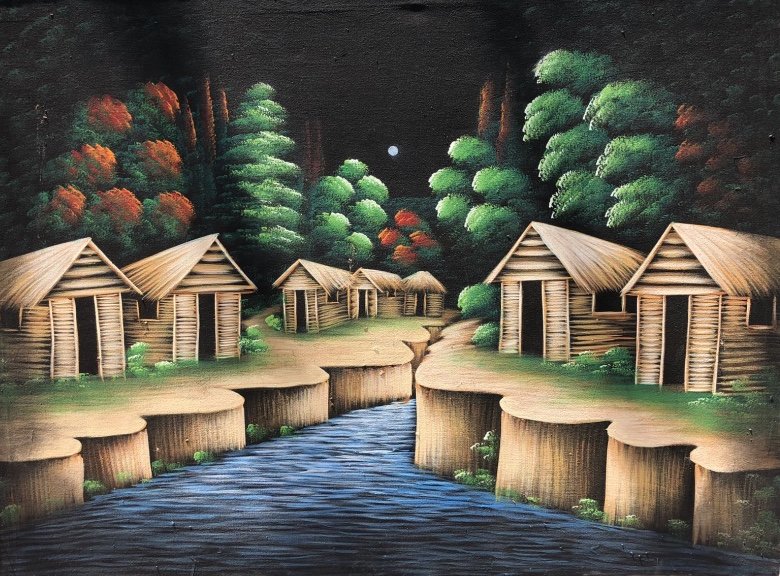 ---
---
---
Lebruns Rubens
An energetic self-taught artist from the Fort National area of Port-au-Prince is Lebruns, Rubens(1983-present). Lebrun enjoys to paint various topics and learning from his fellow artist peers. He loves to paint the monuments, the countryside and rural life of Haiti. The Haitian artists that he most admires in artistic style includes Raymond Lafaille, Jean-Louis Bonaventure and Frantz Adrien Monsanto. He started to paint full time in 2003 and says currently he paints daily.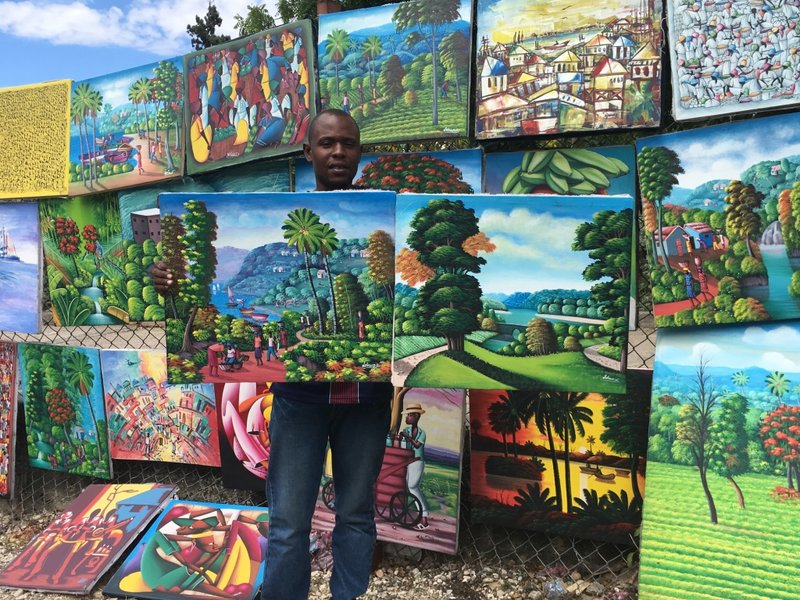 Lebruns, Rubens says that the street art community in Petion-ville has helped him improve many aspects of his paintings by critiquing him when they see his paintings lacking from their viewpoint. He currently sells his paintings personally in the Petion-ville streets as there is more tourist traffic there and a better chance of finding customers.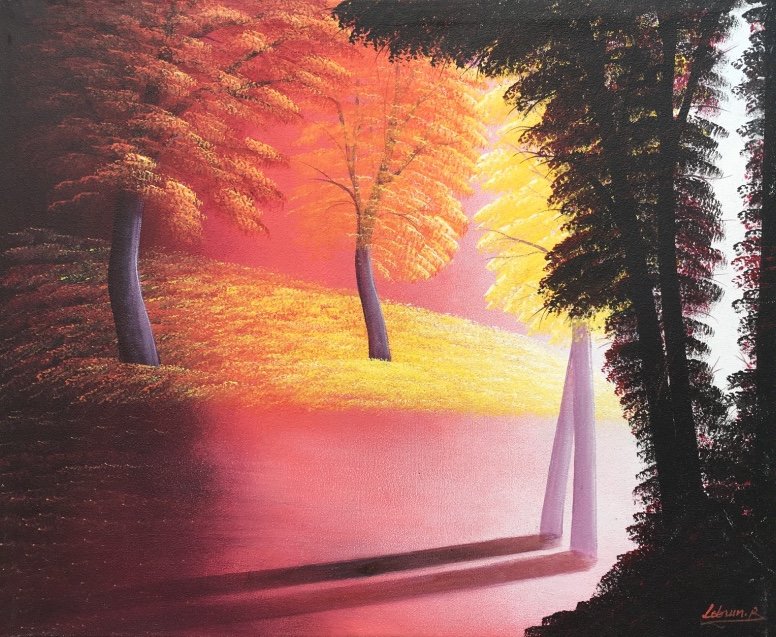 He hopes to continue to learn and grow as a painter. We enjoyed chatting with this energetic and talented painter. Lebrun, Rubens encouraged us to take many pictures of his artwork and we are happy to share them with you.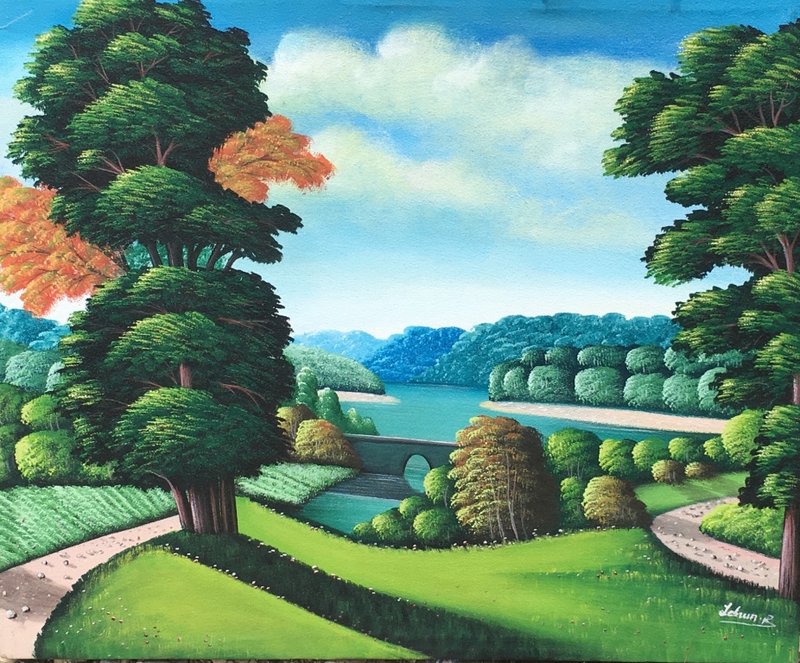 ---
---
---
Leonel Scylla
Leonel Scylla(1978-present) is a versatile and driven Haitian painter whose artwork is found in private collections and in various art galleries in Haiti. Leonel was born in the Petite Rivieres region of the Artibonite. He got his primary school education at the Evangelical Bethany School.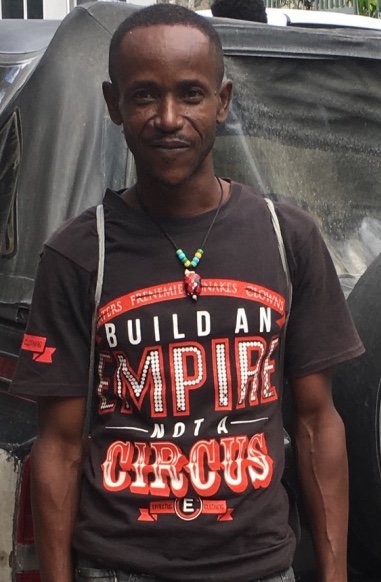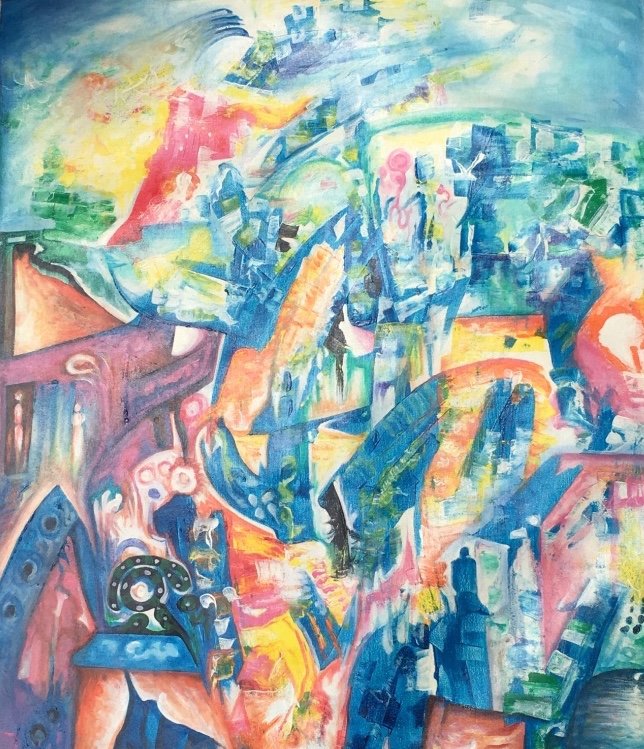 He got his art education at the Ismael Saint-Hilus School of Painters which is owned and run by two brothers Higgins and Jean-Claude Cadet.  He was enrolled at the art school in a class of approximately 10 students in 1994 when he was a young 16 year old artist. He was introduced to us by a painter we met, this painter was a friend of his and recommended that we meet up with him.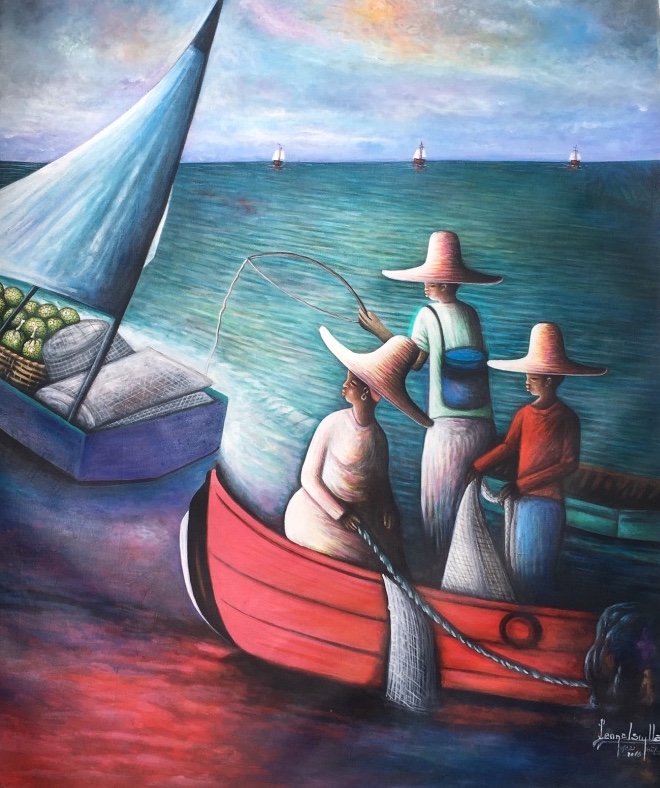 Leonel Scylla met with us at Haitian Street art and told us about his life and his artwork. Leonel loves to paint and uses his career as an artist to help support his 6 children. His children, 3 boys and 3 girls, range in age from 7 to 27 years old. He says he loves to improve on his art by learning from prior Haitian masters in both technique and in style.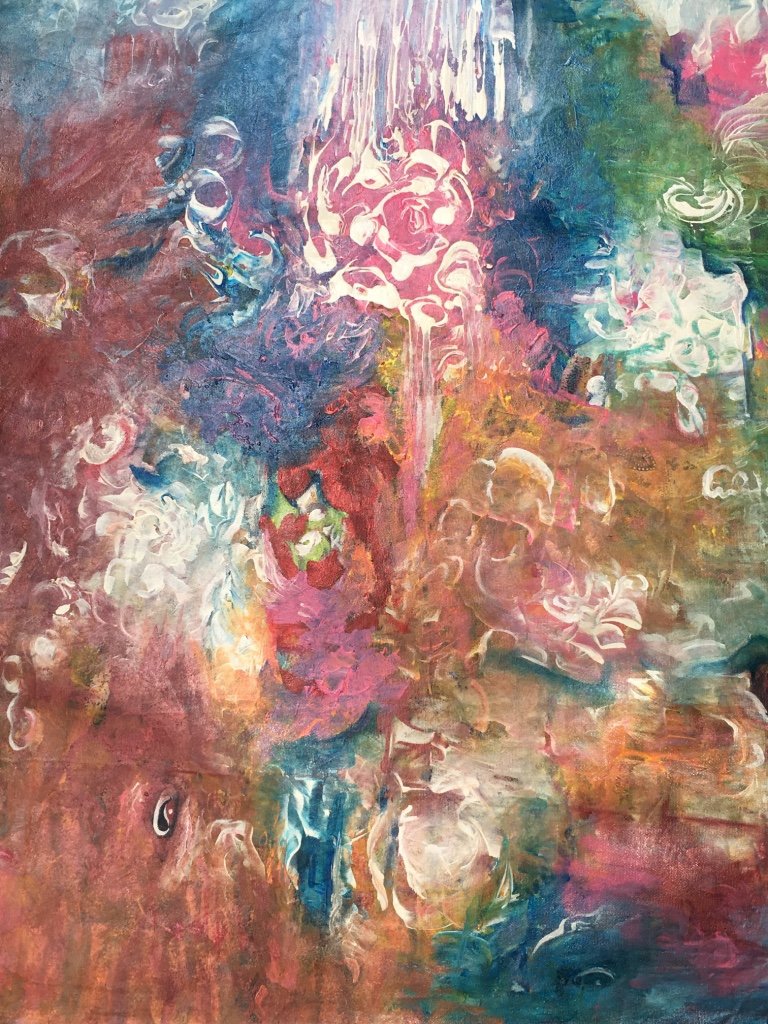 His favorite current technique for creating paintings is by using a painting knife to create abstract impasto impressionist style paintings with an extensive color palette. However he still continues to create soulful Haitian landscapes and traditional rural Haitian scenes. So the next time Haitian Street Art visits an art gallery in Haiti, we hope to find, Leonel Scylla's paintings on display. 
---
---
---
Bellevue, Kender
Bellevue, Kender(1979-present) is a very talented painter we were introduced to this year. This young painter was born in La Chapelle, Artibonite and started to show his gift at a very young age. He studied at the Inary Salizien Art School from 1992 to 1995 when he was between 12-15 years old. He was sent to the art school after his parents discovered his artwork in his school notebooks. Bellevue, Kender says that art training did not mean he slacked on his formal education. Bellevue on school days days went to art training from 2pm to 7pm and on Saturdays from 8am to 2pm. He was constantly learning at a young age.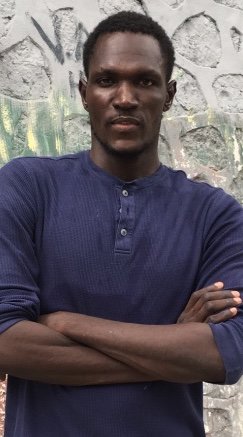 Bellevue Kender had his first major art exhibition in 1997 when he was only 17 years old. It was an exposition of Haitian artists at the Club Med Beach Resort which has now been transformed into the Royal Decameron Beach Resort. His art was very well received and the compliments abundant. Following that first exhibition, he was chosen in 1999 to participate in a competition in the Dominican Republic featuring 5 Haitian artists and 7 Dominican artists and won 3rd place.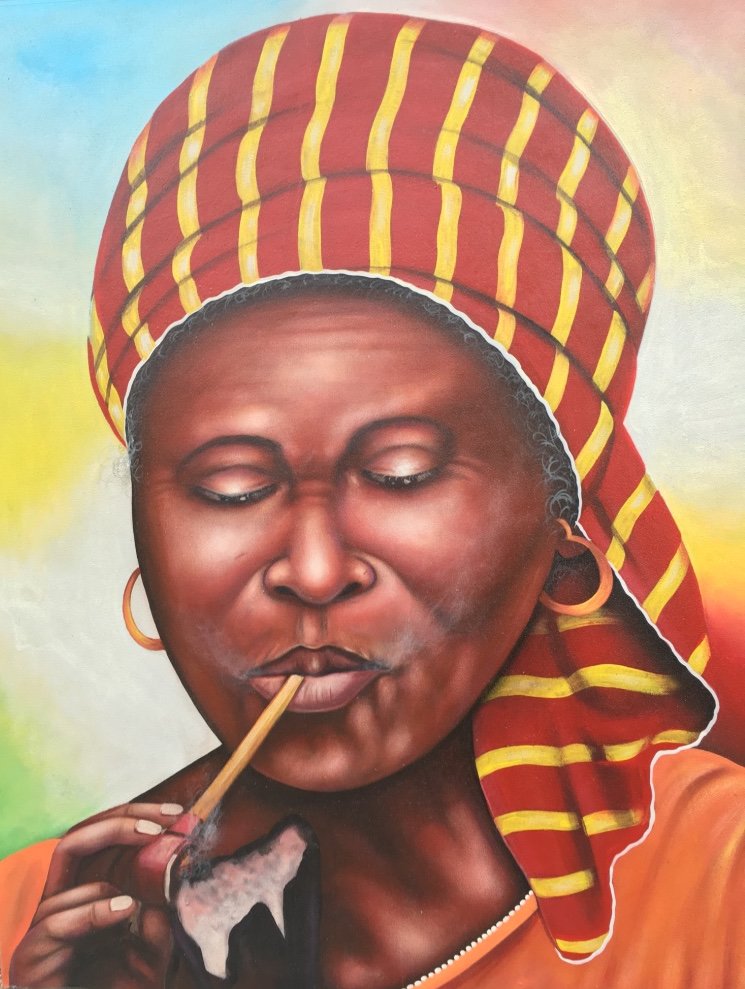 Bellevue, Kender talked to us about what inspired him to dedicate his life to working hard creating art. When he was growing up, he idolized the extremely talented Haitian artists Lyonel Laurenceau and Franc Etienne. He was also inspired by the resilience of Pablo Picasso's life story and the art he was able to create. He shared with us that a true artist has the potential to be inspired by any subject and is unlimited in what he is able to create from that inspiration.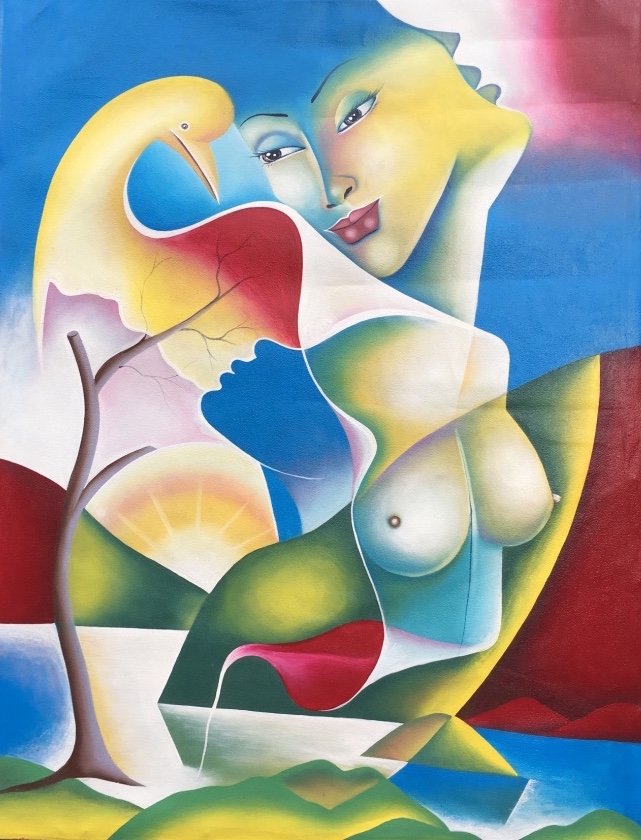 Bellevue, Kender has paintings in various art galleries in Port-au-Prince and he says it takes patience to wait for his artwork to be sold. However he knows that each unique artwork will find a client who will appreciate and love it. He also personally sells his beautiful paintings, including abstracts and personal portraits. His life story reminds us at Haitian Street Art to stay dedicated and committed to finding talented and imaginative artists.  
---
---
---
Elysee, Remere

A 50 year old Haitian painter I had the pleasure of interviewing and the opportunity to take pictures of his original paintings, is Elysee Remere(1967-present). I discussed with him his current art career and personal life. Elysee has been married for many years and has a daughter who is interested in studying medicine. When he is not painting or selling his artwork, he loves to relax by watching international and local soccer matches on television. Elysee, Remere was born in the Southwest of Haiti in Petit Flamens which is close to the city of Cavaillon. He got his school education at the College Mathurin. Elysee has always enjoyed artwork, he says that drawing at an early age lead him to painting and eventually a career as an artist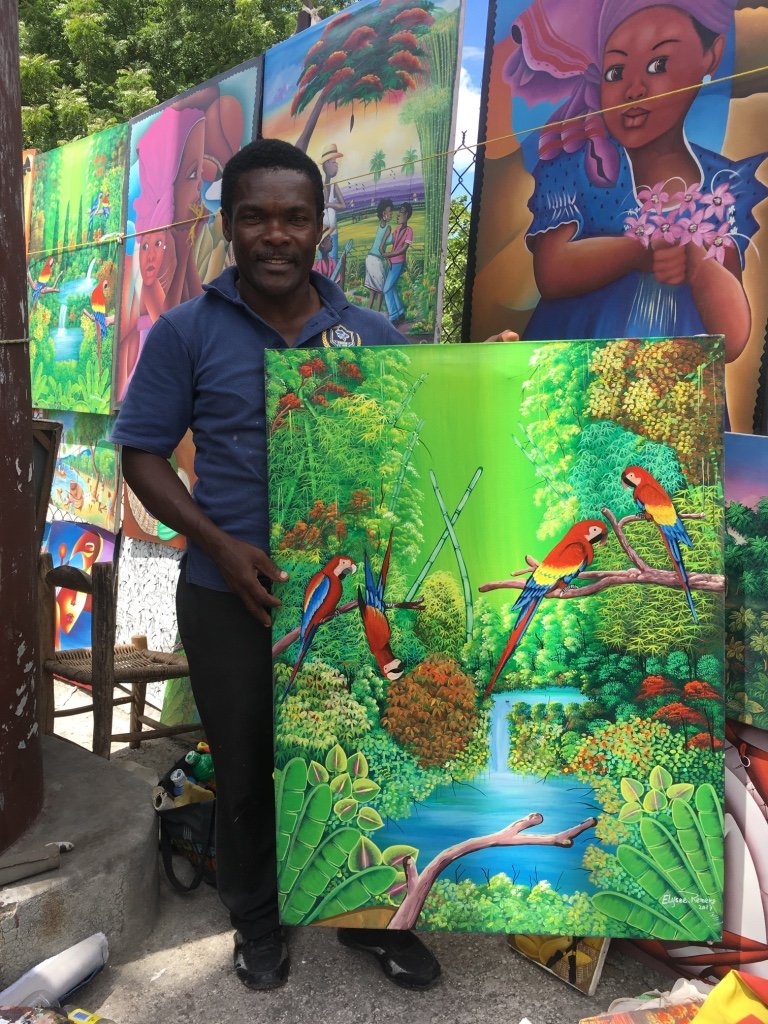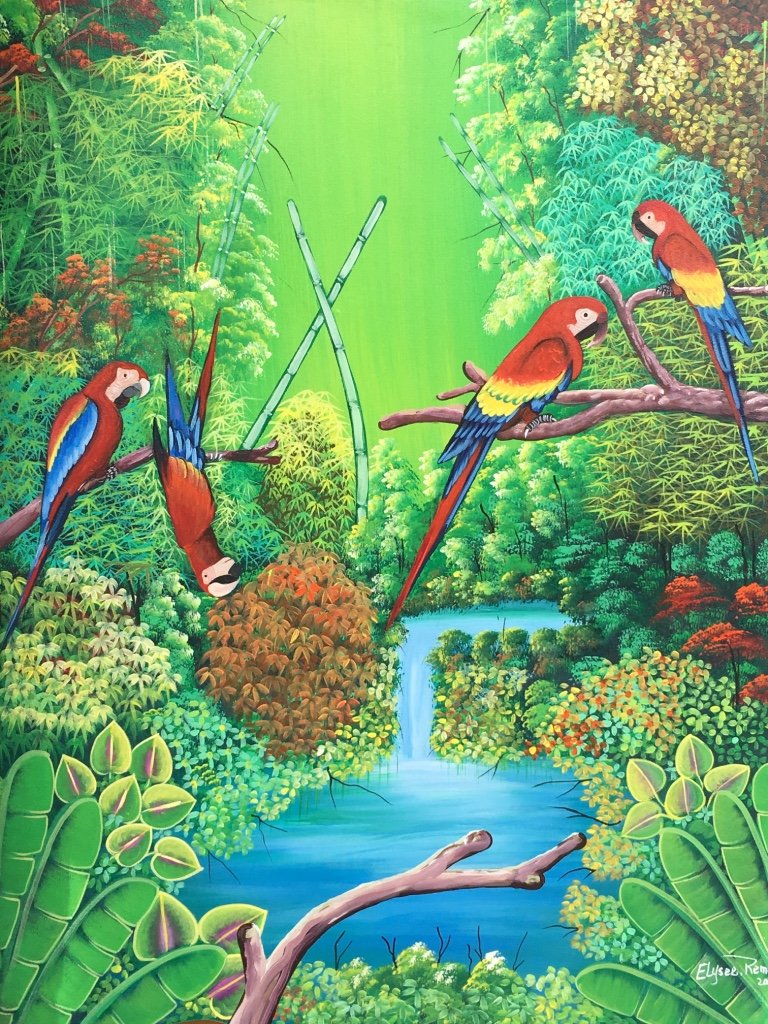 Elysee, Remere is a self-taught artist, who loves painting various topics, using different styles of art. He told me that he began painting as a full-time career in 2003. He sells and displays many of his paintings in a street display located in Petion-ville, Port-au-Prince. He told me that he spends many hours each day working on his paintings. He had beautiful topics in the paintings that I had the pleasure of examining the day I spoke to him. It was refreshing discussing his artwork with him.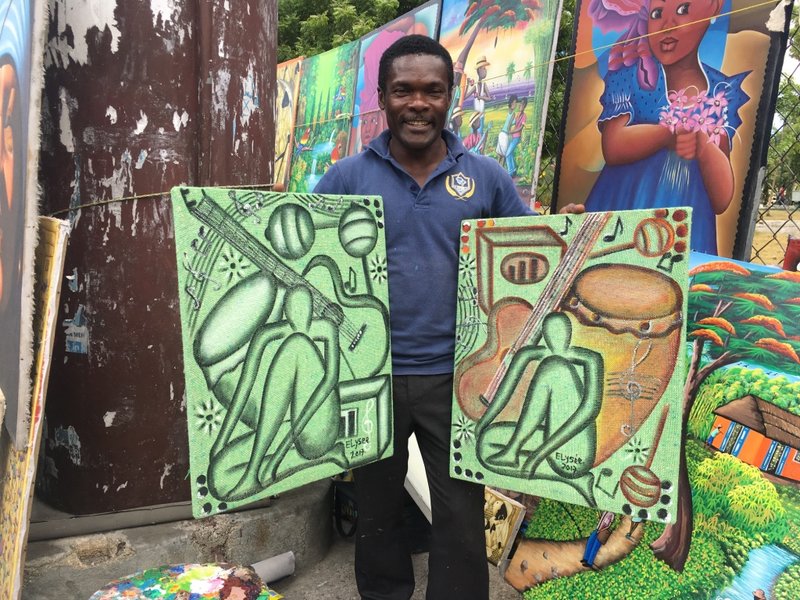 The picture at the beginning of the article is of Elysee, Remere holding a large colorful painting which depicts parrots in a thick jungle. The following picture is of Elysee holding 2 paintings of surrealist abstract human figures in a relaxed pose in front of musical instruments, using a mellow green color palette  The painting at the bottom of this paragraph is one of our favorites, a painting of a happy and peaceful Haitian rural landscape with 2 people walking down a path. Elysee, Remere gets the inspiration for his paintings from his life and his imagination. His laid-back and joyful attitude is woven into his wonderful artwork. Haitian Street Art has enjoyed viewing and purchasing Elysee, Remere's artwork and we hope you will too.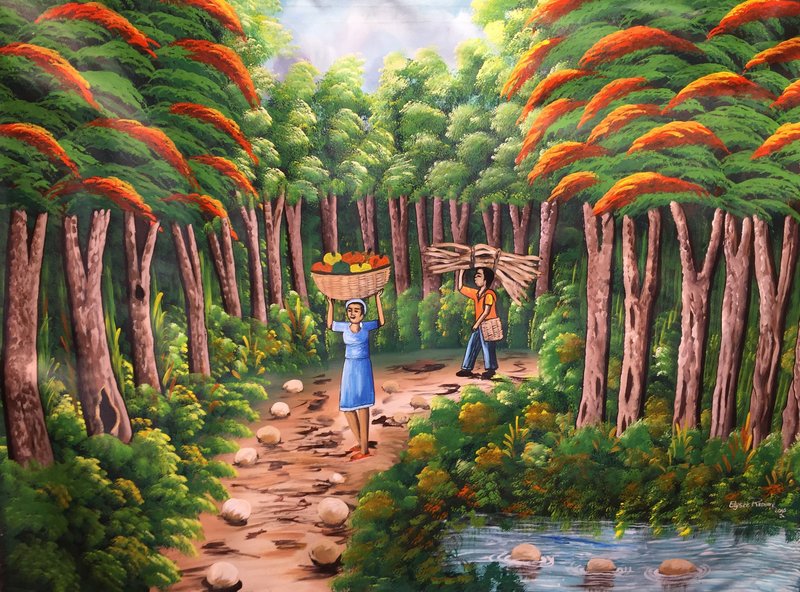 ---
---
---
Dieubon, Darilus

Dieubon, Darilus(1966-present) is a 52 year old Haitian metal artist with a street metal art shop located at the side of the Pan-American Highway in Port-au-Prince, Haiti. His metal shop displays hundreds of various metal art pieces of varying designs. These are created by him and his fellow colleagues that live close to the shop. Dieubon was born in the southwest of the country in the Anse-a-Veau commune in the Nippes Department. The capital of the Nippes Department is the coastal port city of Miragoane. Dieubon Darilus was born into a peasant farmer family and was raised by a single mother. Dieubon has 3 brothers and 2 sisters. He says that early in his childhood his mother moved the family to Port-au-Prince where she began to work. Due to financial hardships, Dieubon was not able to completely finish his education.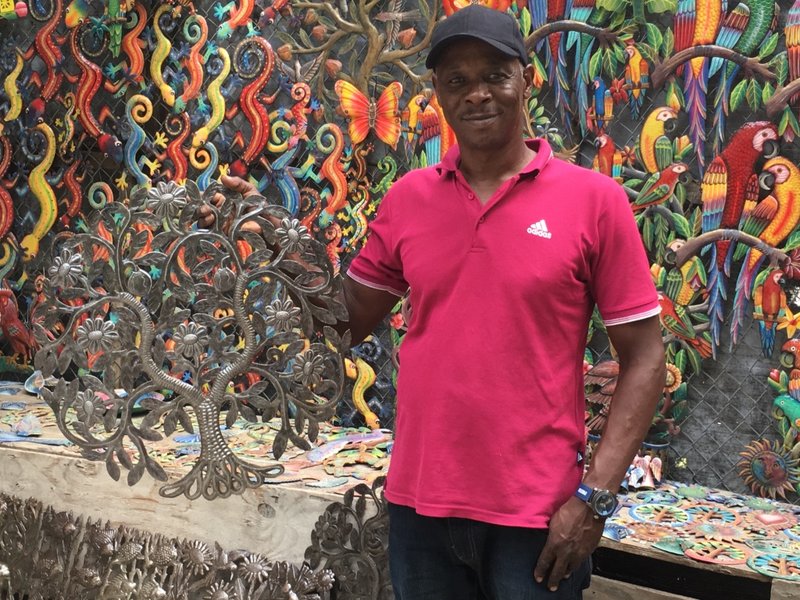 Dieubon, Darilus as a young man pursued both music and metal artwork as he enjoyed both artistic ventures. He was a member of the Twoubadou musical group called the "Etoiles D'or" which translates to "Golden Stars". He played the acoustic miniature guitar for the musical group that performed in small night clubs and venues around Port-au-Prince. Dieubon still enjoys playing musical instruments but he has now retired from musical performance. In 1986 at the age of 20, he began an apprenticeship under a blacksmith and artist called Boss Andre Carlo.  Andre Carlo, taught him how to create metal artwork from recycled and upcycled metal drum sheets.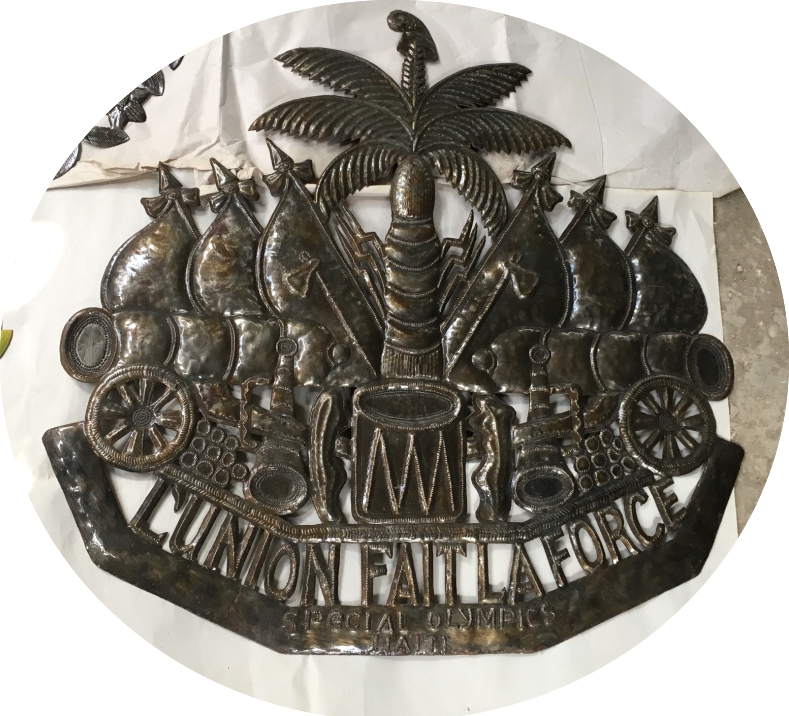 Since 1986 Dieubon, Darilus has not stopped creating metal art work. He uses various tools to create the metal art including, the Mato, the Burin and the Poinceau. A Mato is a flat hammer used to pound the metal, a Burin is a cold steel chisel used to cut the metal or engrave fine lines and a Poinceau is a large nail like tool used to emboss circular designs on the metal artwork. Dieubon told us that he loves making unique metal artwork designs that are enjoyed by his customers. Throughout his life he has travelled in the Caribbean and South America selling his artwork through small art shops. However he wasn't being given any recognition or appreciation so he decided to return to his home country of Haiti and start his own art shop. Dieubon, Darilus says he hopes the Haitian government will start to help street metal artists like him. Haitian Street Art had a chance of visiting his street art shop and we enjoyed viewing the many wonderful art pieces that he had on display in his metal art world. He is a talented artist that we look forward to working with in the future. Haitian street art hopes you will also support Haitian metal art.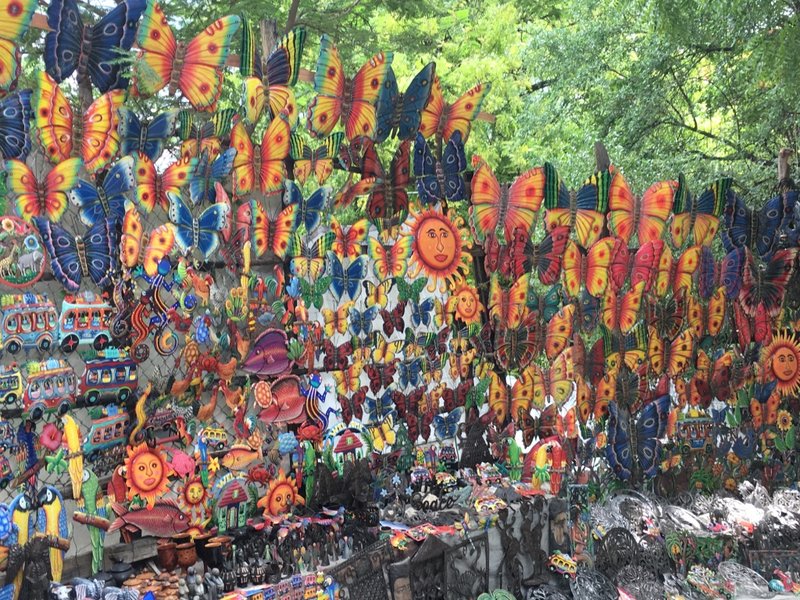 ---
---
---
Jacobs Gerlandes
Jacobs, Gerlandes(1985-present) is a young Haitian artist that I had the pleasure of talking to on my most recent trip to Port-au-Prince, Haiti in June 2017. Haitian street art was on a mission to meet more artists on this trip. One afternoon we drove to Petion-ville in the hopes of meeting a few of Haiti's street artists and we were not disappointed. We ran into Jacobs, Gerlandes across from the Kinam Hotel as he was standing in front of a display of many paintings that hung on the wall behind him for sale. When we talked to him, we were fortunate, as not only did he sell paintings but he was an artist himself.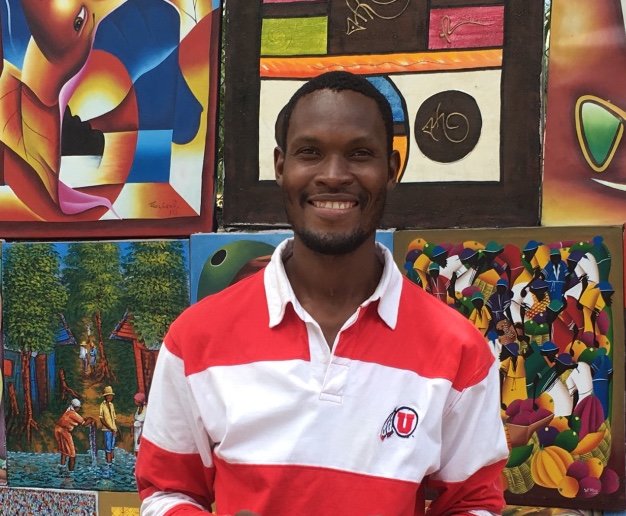 Jacobs, Gerlandes was born in the city of Jacmel, which is located in the South East coast of Haiti. Jacmel was the first city in the Caribbean to have electricity in 1925 and at that time got the nickname the City of Light. Jacmel also has a very active art scene especially papier-mâché which is artwork created by sculpting paper with an adhesive glue. Jacobs, Gerlandes was born into an artistic family as he was inspired to pursue painting by watching his father Jacobs, Ronald who was a career painter. He told us his father now lives in the Dominican republic. Jacobs, loved to draw while he was at school, the College Mix Thallette, and at the age of 20 he enrolled into the Center for Arts in Port-au-Prince and took formal art classes from 2005-2007. Currently he sells some great paintings on the street across from the Kinam Hotel but his higher quality paintings go to private clients who love his artwork. 

The discussion soon focused on the artwork that Jacobs, Gerlandes now creates. He told us that his favorite topics to paint on canvas are market place patterns, market place scenes and colorful figures in folkloric dance. For example, one of Jacobs, Gerlandes unique styles, is his paintings of a group of people figures, in simple clothes with bright colorful patterns, dancing energetically to folklore music. We also enjoyed examining his miniature pattern paintings that he had on display for sale. It was refreshing to sit down and talk with this young talented artist and Haitian Street art hopes to aid him in his journey to success as a Haitian artist.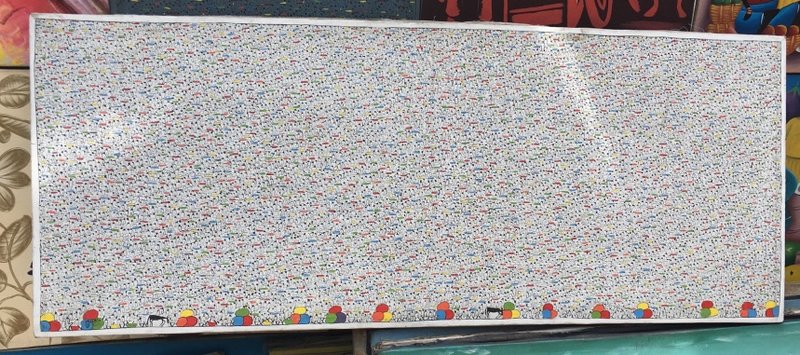 ---
---
---
Odilon Frantz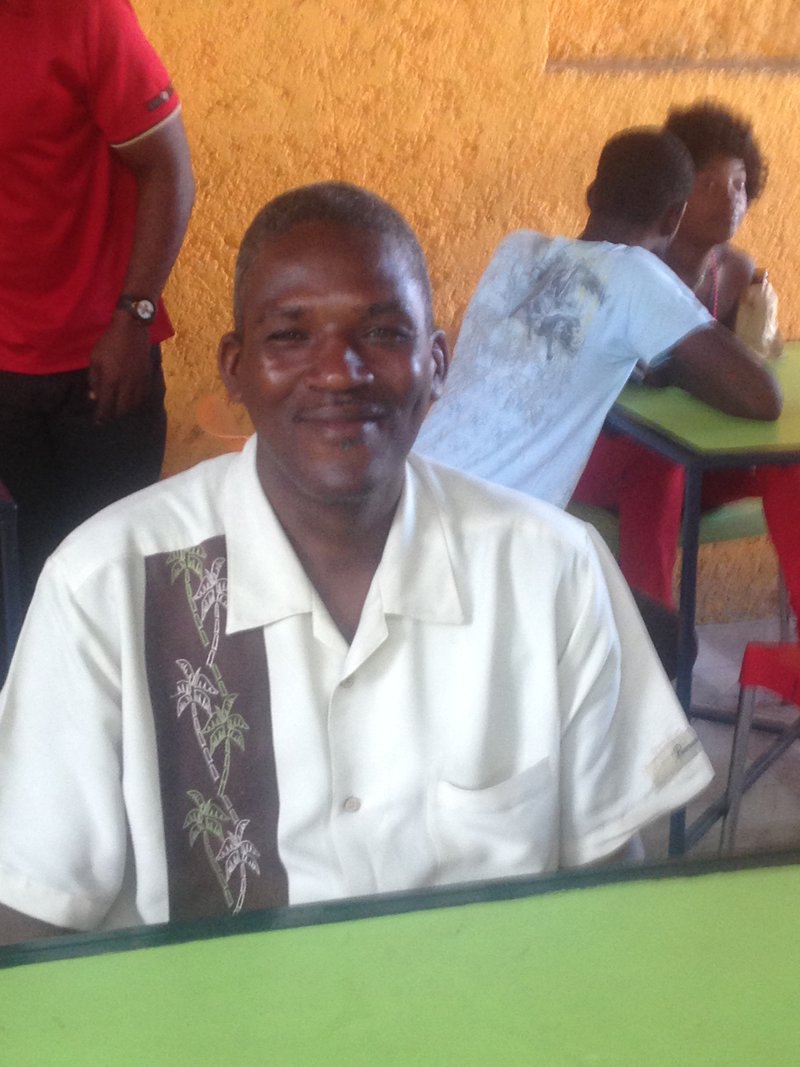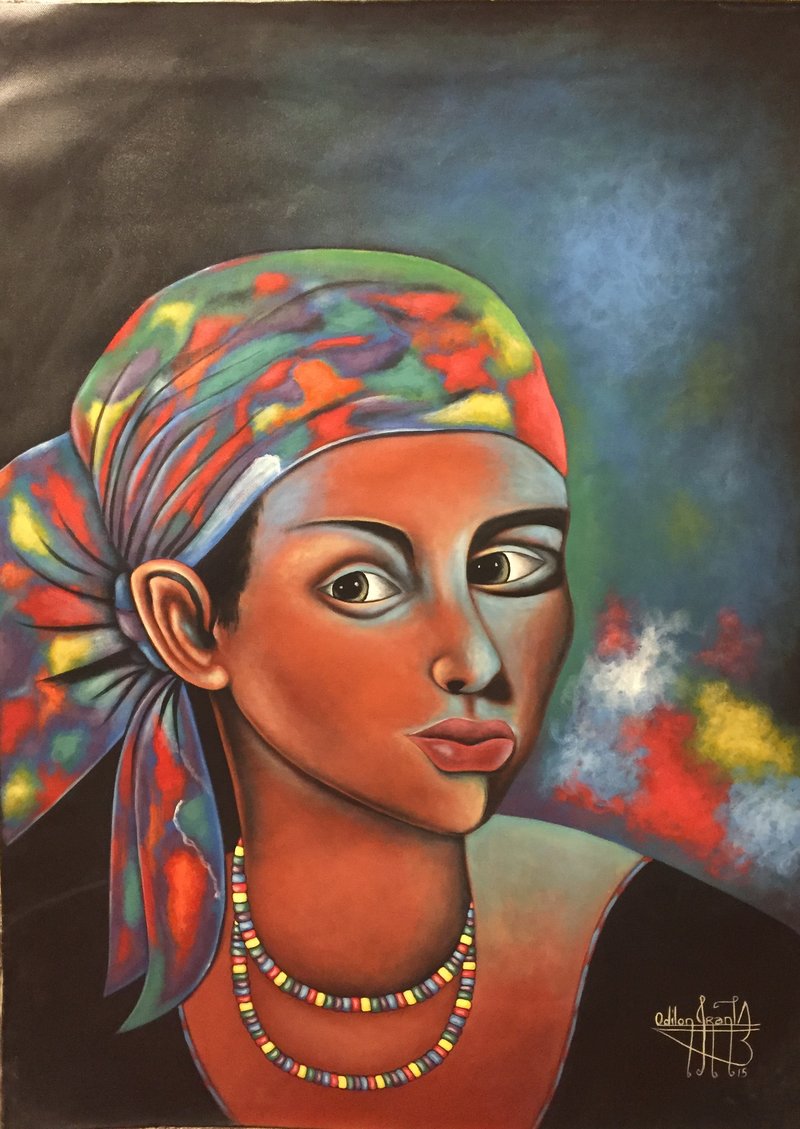 Odilon Frantz(1972-present) is a 44 year old self taught Haitian painter that we met in February 2016 whose artwork consists of oil paintings with lush colors and soulful themes. Many  of his paintings display beautiful woman in a natural or abstract setting. He is from the Commune de Verettes in L'artibonite. His father worked as a mechanic and his mother as a housewife. He was introduced to art at the age of 17 in 1989 by a friend who worked in the tailor industry. Falling in love with art, he has been painting since that age. Odilon is also a Christian and a pastor and dreams of starting his own church.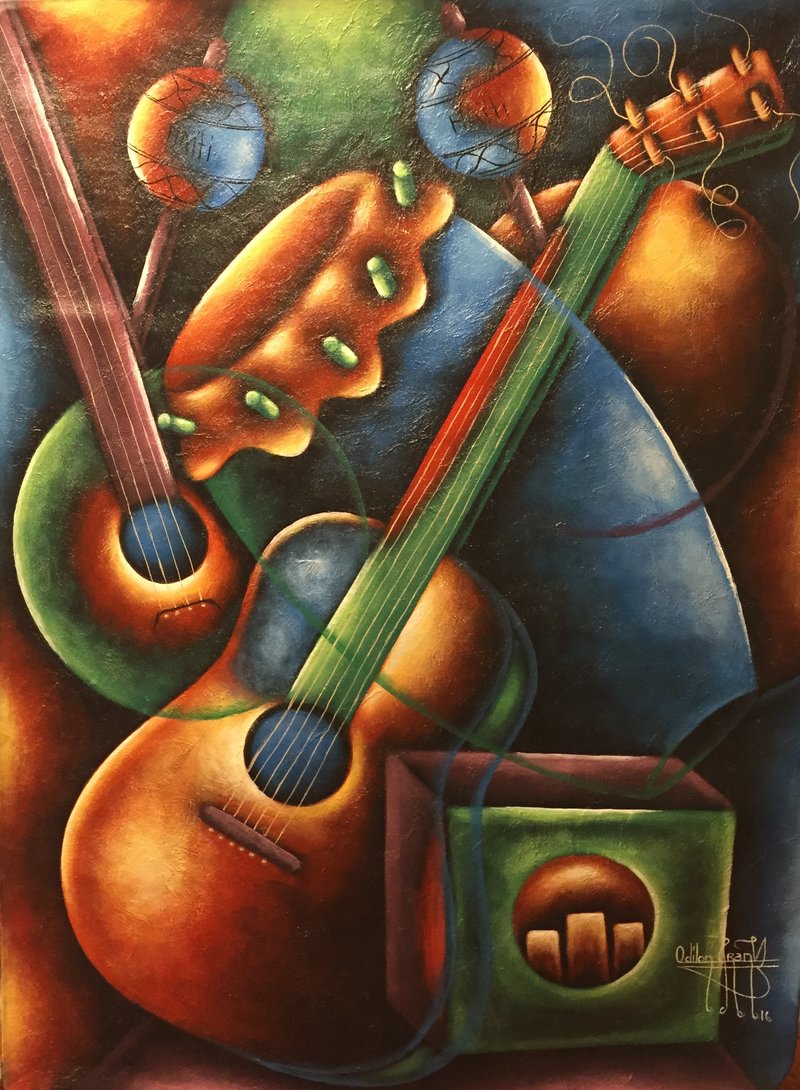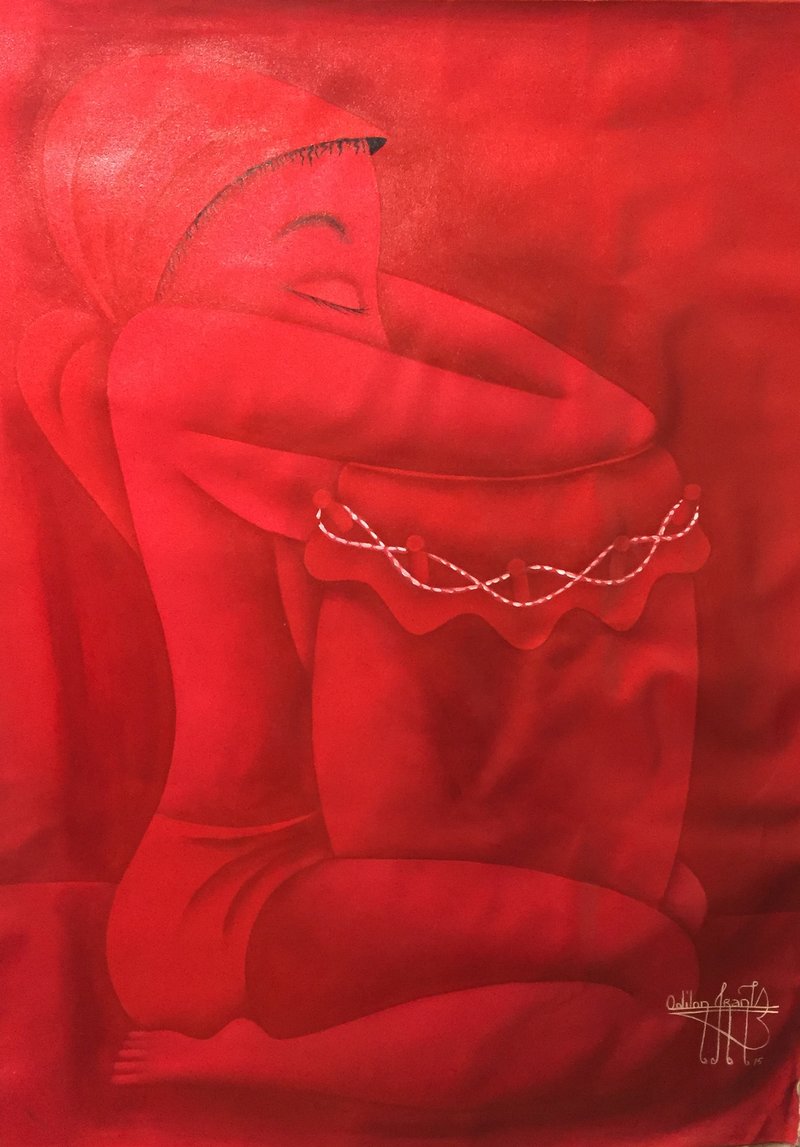 Odilon finds inspiration for his art from the natural world that surrounds him. He revealed to us that his favorite artist is Lyonel Laurenceau. He told us that when a person spends time enjoying his art that provides him great professional satisfaction. He has been selling his art through art vendors in the streets of Port-au-Prince for many years but aspires to have his artwork displayed in galleries and museums. He says that the lack of support, appreciation and financial satisfaction frustrates him and many other Haitian artists. As an artist he has also struggled with other artists copying his unique inspirations. His goal and dream as an artist is to be able to work on unique art masterpieces that may take weeks, have his art work collected and be able to stop painting quick reproductions of popular art on the street.We are glad to have Odilon Frantz's art work in our personal collection and for sale in the online store at Haitian Street Art.
---
---
---
Ernso Michel
Ernso Michel(1974-present) is a 42 year old Haitian painter and wood craftsman who we met in September 2016. He is a self taught artist and started painting and working on wooden crafts 15 years ago in 2001. Ernso was born and currently lives in the coastal town of Montrouis on the Cotes des Arcadins(Coast of the Arcadins). Ernso sells his art through vendors located on the coastal beach hotels such as Wahoo Bay Beach Resort and Kaliko Beach Club. These beach hotels attract tourists and locals due to the beautiful sand beaches and warm waters of the Caribbean sea. He says that most of his art sells between January and June as these months are the busy months for tourist and local traffic.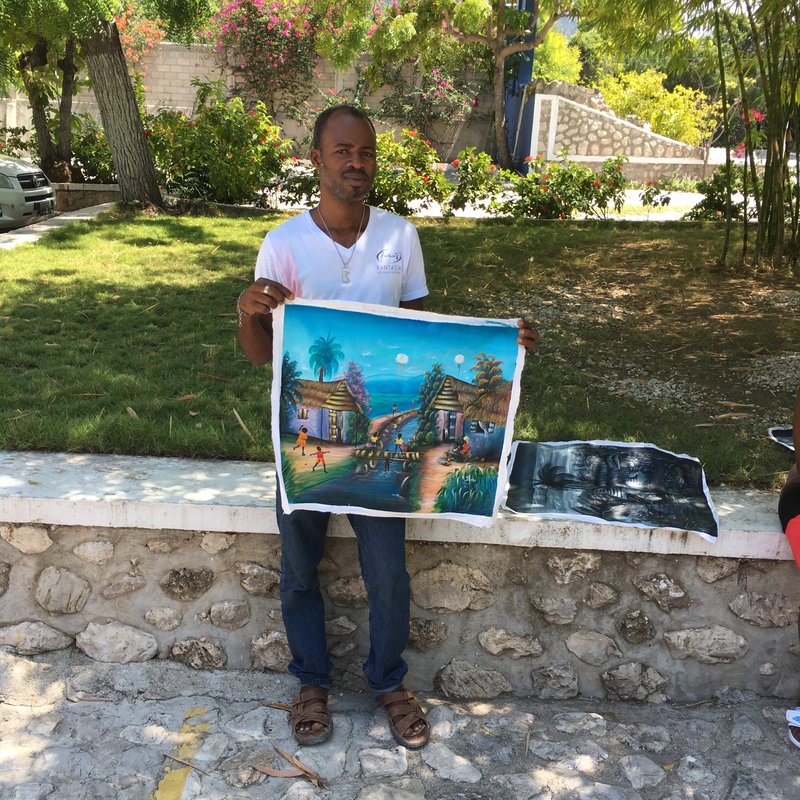 Ernso Michel makes wooden crafts such as face masks, ornamental machetes, ornamental bowls and ornamental animal figures. He also loves to paint with acrylic paint and his subject matter includes the Haitian countryside, beautiful sunsets and market scenes. He creates vivid colorful paintings or black and white paintings. He also says that he loves to paint gardens and garden scenes however he doesn't offer these paintings for sale through beach vendors. Ernso says that his favorite artists are fellow Montrouis artists Rudy Xavier and Madouches. He hopes in the future to increase his artistic skills, exposure and renown. You can view his artwork either at the beach or by browsing the online store of the Haitian Street Art website.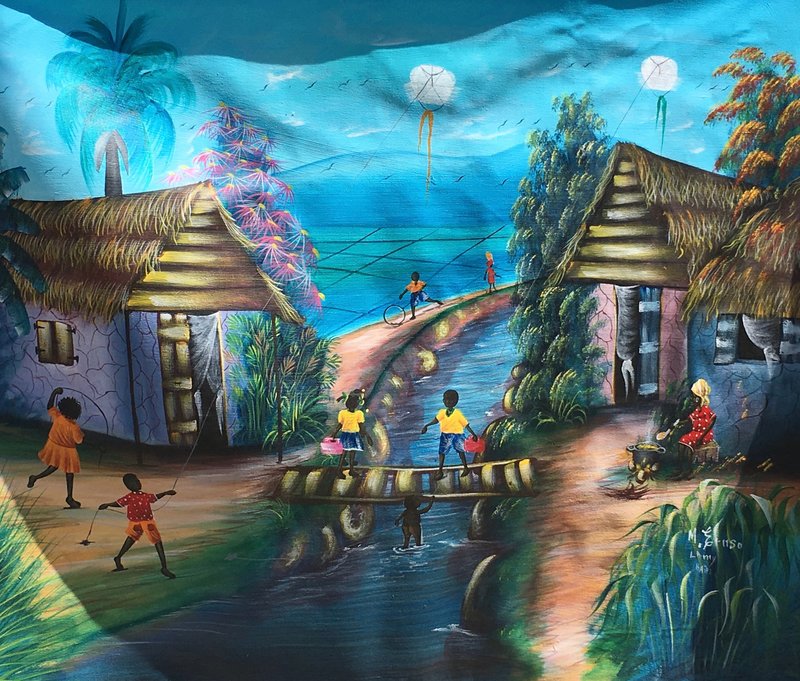 ---
---
---
Lamy Ytalis
Lamy Ytalis(1987-present) is a 29 year old artist painter and wooden craftsmaker, who was born in the city of O'Cayes but now lives and works in the coastal town of Montrouis on the Cotes des Arcadins(Coast of the Arcadins). We met him in September 2016 along with his mentor and colleague Ernso Michel. Lamy says he was encouraged to pursue his artistic talents by Ernso 6 years ago and started selling his artwork in 2010.  Lamy currently lives and works at the Canaan Christian Community, Tete Kole Ak Kris in Montrouis a Christian Mission campus which includes a school and an orphanage. From this community he works on his acrylic paintings and wooden crafts. Lamy Ytalis sells most of his artwork to missionaries at the Canaan Christian Community or to tourists at the nearby beach resorts on the coast.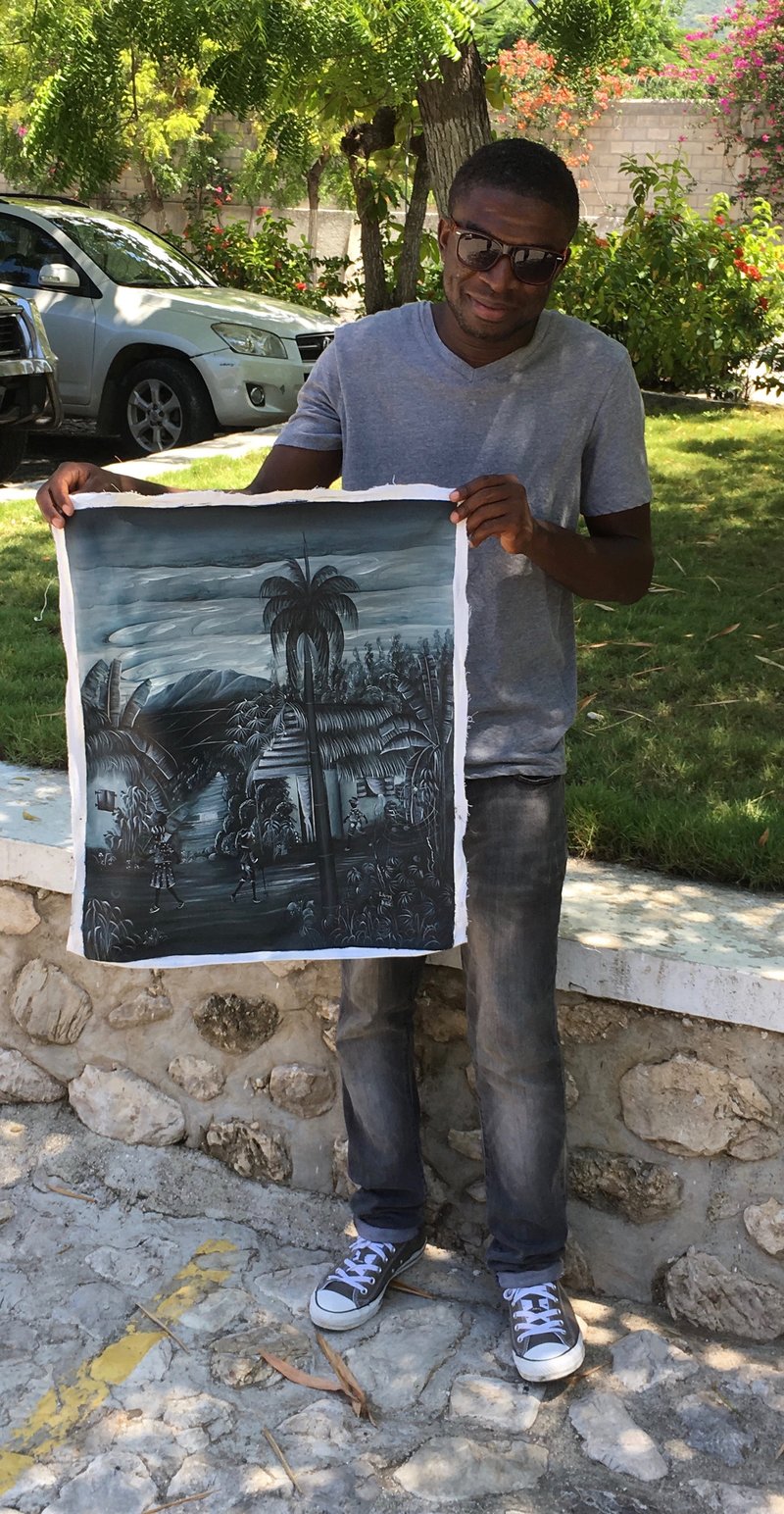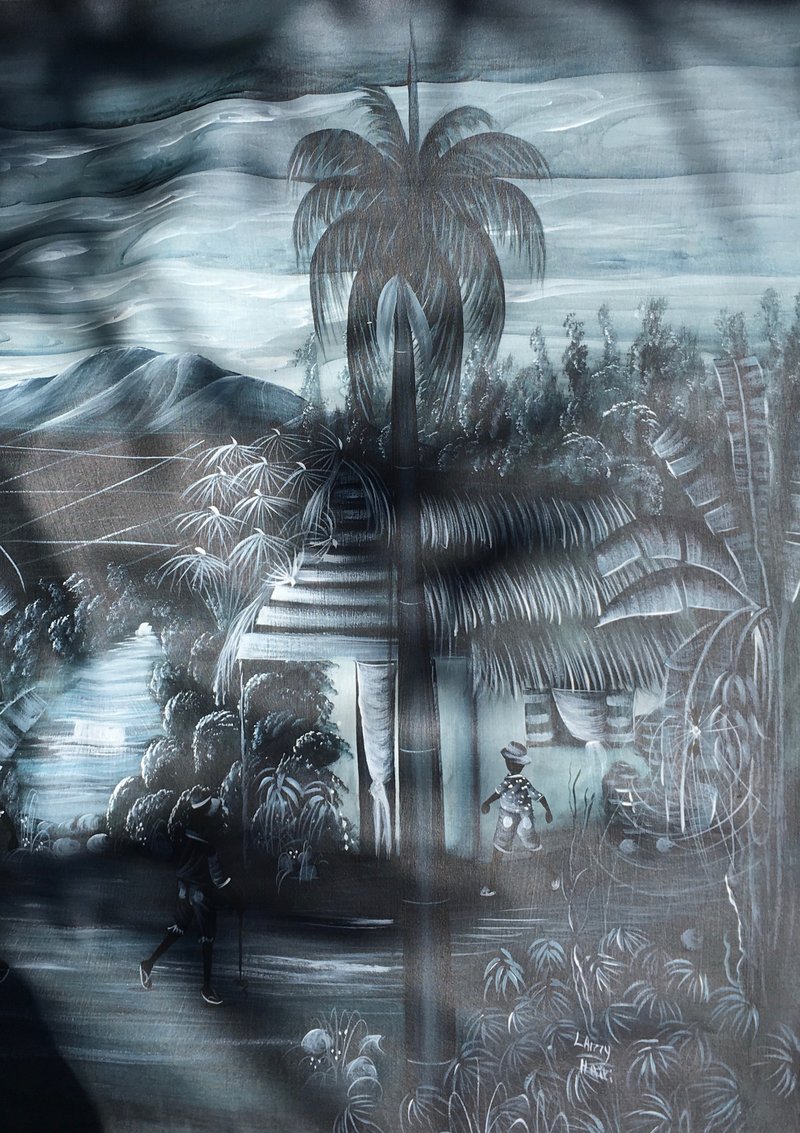 Lamy Ytalis told us that he enjoys visiting museums, swimming and diving among various things. He finds inspiration for his artwork in the Caribbean Sea off the coast of Haiti. He creates acrylic paintings incorporating fishing boats, local fish, dolphins and the coral reef. He likes to paint deer that are not native to Haiti. He also enjoys painting the Haitian countryside and Haitian country life. Sometimes Lamy collaborates with his mentor and colleague Ernso and they create a painting together. He also creates various wooden crafts such as small painted bowls, inscribed machetes and wooden plates. Lamy told us he would love to visit museums worldwide, get more formal training and get increased recognition as an artist. His Facebook page is LamyY.Ytalis@facebook.com. You can enjoy or purchase his artwork at our online store Haitian Street Art. 
---
---
---